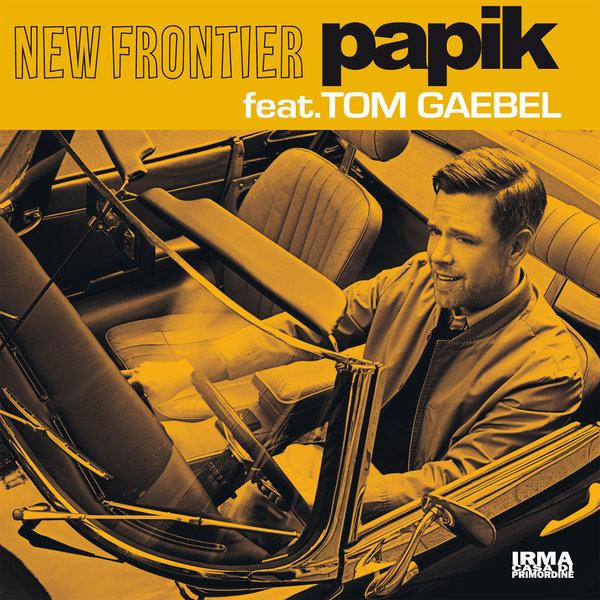 Duplicated from (Irma Records Papik "New Frontier") The new single from Papik, the now over ten-year project of the musician, producer and arranger Nerio Poggi, is the remake of the famous song by Donald Fagen 'New Frontier', the main track of the historic album 'The Nightfly' of the founder artist of Steely Dan .
The guest voice will be the German-born singer Tom Gaebel, very popular in Germany with a dozen albums to his credit, some of which have become best sellers, former collaborator of Papik in several other songs in his catalog. Tom Gaebel's jazz soul voice goes perfectly with the version of New Frontier which winks at Quincy Jones' unforgettable song called Soul Bossa Nova.
Papik's new album will be titled Sounds For The Open Roads vol. 2. The release is scheduled for November and, like the popular volume one of the same title, it will be a double album split between a soulful and a jazzy part.
After the release of Body To Body, the cover of Gepy & Gepy with Frankie Lovecchio on lead vocals, which anticipated the Soul part of the new album, this new single anticipates the Jazzy part.

Il nuovo singolo di Papik, il progetto oramai ultra decennale del musicista, produttore e arrangiatore Nerio Poggi, è il rifacimento del celebre brano di Donald Fagen 'New Frontier', brano principale dello storico album The Nightfly dell'artista fondatore degli Steely Dan.
Alla voce ospite il cantante di origine tedesca Tom Gaebel, molto popolare in Germania con all'attivo una decina di album alcuni diventati dei best seller, già collaboratore di Papik in diversi altri brani del suo catalogo. La voce jazz soul di Tom Gaebel si sposa perfettamente con la versione di New Frontier che strizza l'occhio alla indimenticabile brano di Quincy Jones intitolato Soul Bossa Nova.
Il nuovo album di Papik si intitolerà Sounds For The Open Roads vol.2. L'uscita è prevista per novembre e, come il popolare volume uno dallo stesso titolo, sarà un album doppio diviso tra una parte soul e una jazzy.
Dopo l'uscita di Body To Body, la cover di Gepy & Gepy con Frankie Lovecchio alla voce solista, che anticipava la parte Soul del nuovo album, questo nuovo singolo anticipa la parte Jazzy.