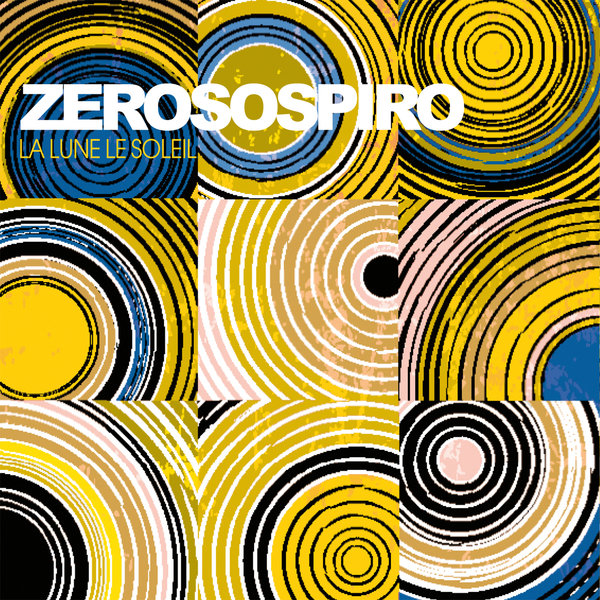 Zerosospiro is a project by Paolo D'Errico and Alessandra Ferrari. The idea was born from the passion of both the artists for orchestrated pop music. Songs that look like soundtracks for films of the past years, melodies that stand out thanks to Alessandra's soulful voice between strings and vintage instruments, and that give Italian music a new shape, a new and unique color. The intersection with electronic sounds leads them to approach the sound of illustrious contemporary foreign bands such as Zero 7 and Thievery Corporation. From the very first steps, the two obtained the immediate approval of DJs and record companies. In fact, many songs, despite the sung in Italian, are included in important selections and compilations all over the world, from Japan to the United States, England and Europe. Their first album 'Mentre il sole scende' comes out on IRMA records and includes all their most important songs: 'Artificiale', 'Quasi transparente', 'Automaticamente', the unpublished 'Lamore che verrà' and the cover in bossa version of the song 'Conversazione' made famous in the 60's by Mina.
'Sogni sul divano' is Zerosospiro's second album. The album contains 12 songs, 8 originals and 4 covers, including the post electronic reinterpretation of 'Una Cellula', a piece by Franco Battiato included in the album 'Fetus' (1972). Album rich in colors and musical images, it contains a mature sound than the previous 'Mentre il sole splende', while maintaining the use of programmed samples and drums, fragments of digitized music, the album transmits, thanks to the voice of Alessandra , a unique warmth, recurring in all the songs.
The use of orchestrations mixed with typical sounds of electronic music places them in a larger space, not limited to the Italian territory alone. So alternate songs like 'Lessons in Love' (originally written by Level 42), or like the 'Desiderio', original song, wrapped in a special aura, by a fluid and light text, which recalls groups like Zero 7 and Goldfrapp . Perhaps the song that could represent Zerosospiro is 'This is a Dream', a song written a few days before the closing of the album. A track with an international flavor that blends the atmosphere of trip hop with John Barry-style orchestrations.
LA LUNE LE SOLEIL: Dancing barefoot by the sea, the warmth of the setting sun and then the night. The moon reflected on the bodies that live a passion free from constraints, all in an atmosphere of refined French touch.

Zerosospiro è un progetto di Paolo D'Errico e Alessandra Ferrari. L'idea nasce dalla passione dei due per la musica pop orchestrata. Canzoni che sembrano colonne sonore per film degli anni passati, melodie che risaltano grazie alla voce soul di Alessandra tra archi e strumenti vintage, e che danno alla musica Italiana una nuova forma, un nuovo ed unico colore. L'incrocio con le sonorità elettroniche li porta ad avvicinarsi al suono di illustre band straniere contemporanee come Zero 7 e Thievery Corporation. Sin dai primi passi i due ottengono l'immediato consenso di dj e discografici. Infatti molti brani, nonostante il cantato in italiano, vengono inseriti in importanti selezioni e compilation in tutto il mondo, dal Giappone agli Stati Uniti, Inghilterra ed Europa. Il loro primo album 'Mentre il sole scende' esce su IRMA records e include tutti i loro brani più importanti: 'Artificiale', 'Quasi trasparente', 'Automaticamente', l'inedita 'Lamore che verrà' e la cover in versione bossa del brano 'Conversazione' reso famoso negli anni 60 da Mina.
'Sogni sul divano' è il secondo album di Zerosospiro. L'album contiene 12 brani, 8 originali e 4 cover, tra cui la rivisitazione post elettronica di 'Una Cellula', brano di Franco Battiato inserito nell'album 'Fetus' (1972). Album ricco di colori ed immagini musicali, racchiude una sonorità più matura rispetto al precedente 'Mentre il sole splende', pur mantenendo l'utilizzo di campionamenti e batterie programmate, di frammenti di musica digitalizzata, l'album trasmette, grazie alla voce di Alessandra, un calore unico, ricorrente in tutti i brani.
L'utilizzo di orchestrazioni miscelate a sonorità tipiche della musica elettronica li colloca in uno spazio più ampio, non circoscritto al solo territorio italiano. Così si alternano brani come 'Lessons in Love' (originariamente scritto dai Level 42), o come il 'Desiderio', brano originale, avvolto da un'aura speciale, da un testo fluido e leggero, che richiama gruppi come Zero 7 e Goldfrapp. Forse il brano che potrebbe rappresentare Zerosospiro è 'This is a Dream', canzone scritta qualche giorno prima della chiusura dell'album. Un brano dal respiro internazionale che fonde le atmosfere del trip hop alle orchestrazioni alla John Barry.
LA LUNE LE SOLEIL: Ballare a piedi nudi in riva al mare, il calore del sole al tramonto e poi la notte. La luna riflessa sui corpi che vivono una passione libera da vincoli, tutto in un'atmosfera di raffinato french touch.