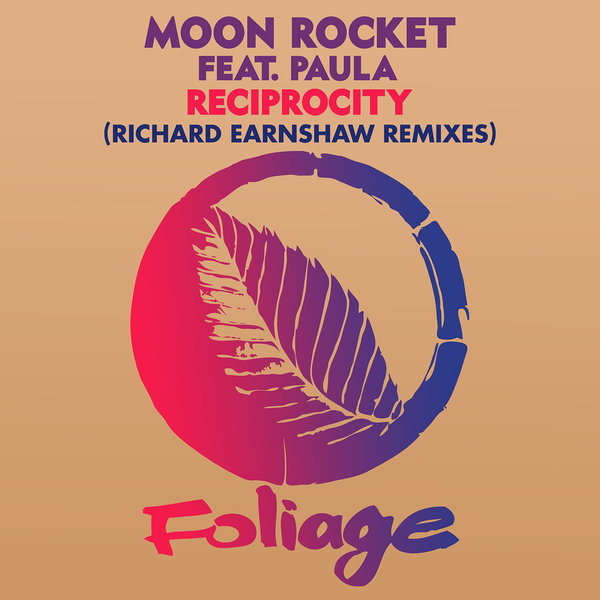 Reciprocity
Richard Earnshaw 'Inner Spirit' Extended Mix

(6:07)
Reciprocity
Richard Earnshaw 'Inner Spirit' Instrumental Mix

(6:07)
Reciprocity
Richard Earnshaw 'Inner Spirit' Radio Edit

(3:50)
Earlier in 2020 FOLIAGE RECORDS welcomed MOON ROCKET for a debut release with the single RECIPROCITY, a beautiful collaboration with PAULA. Now we are very excited to present a stunning set of 'Inner Spirit' remixes courtesy of UK house don RICHARD EARNSHAW.

Based in Miami, MOON ROCKET (real name RAFFAELE SCOCCIA) is an Italian Producer/DJ and also an accomplished Piano and Hammond Organ player. He has been making some big waves over the last few years with stand out releases on labels such as DEFECTED, SOULFURIC, DEEPVIZIONZ, MOOD FUNK, NERVOUS, FOLIAGE and of course his own label MOON ROCKET MUSIC.

PAULA is a native of Atlanta, Georgia and is a classic artist in all senses. She possesses the kind of vocal instrument that brings honesty and vulnerability to any musical story that she chooses to tell. PAULA has a long long list of musical collaborations including working with ANGIE STONE, INDIA ARIE, ERIC BENET, ROBERT GLASPER, THE NEPTUNES amongst many others and also features on REEL PEOPLE%u2019S forthcoming album in 2021, LOVE2.