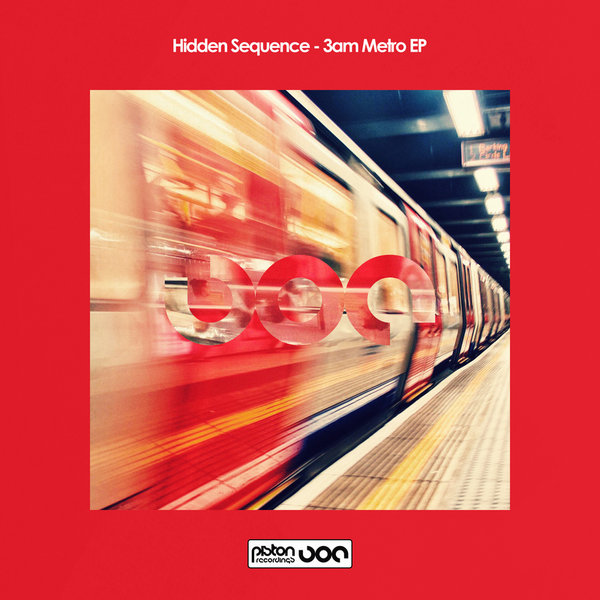 We welcome the prolific Hidden Sequence to Piston Recordings with the superb 3am Metro EP. Hidden Sequence is made up of two very experienced artists, Stefano Ugliano and Paul Robertson-Brown. Stefano is no stranger to us, he released with us previously as Bicycle Corporation alongside Marco Mei, delivering the fantastic Back To Basics EP in 2016 as well as a tight remix on Rick Wade's Seen things from 2018. Stefano refined his skills in the art of playing synths. He used these skills on many projects, mostly collaborations with other artists, with a penchant for house music, while always keeping a distinctive sound. His tracks have been released on various labels such as Mauro Picotto's Alchemy and Phunk Investigation's Miniatures Records with a range of top support from artists such as, like DJ Sneak, Dubfire, Axwell, Danny Tenaglia, Above&Beyond and more. Paul Robertson-Brown debuts here, bringing a wealth of knowledge to the table. An old-school Drum n Bass artist, Paul began performing under several guises and collabs from 1995 including Phaze 3, State Logik, Solid State and Side FX. Releases on Renegade Recordings, React, Moving Shadow and other top labels, put him firmly in the heart of the ever-changing DnB scene at the time, and he continued to churn out quality cuts up to the turn of the millennium. Now, in 2020, Paul is taking his production skills down a much more mellowed route, and we've no doubt the same passion and drive will come through as he did on his earlier productions. Great to have both guys on board.

Space Cake opens the EP, taking us down into the depths of deep house. The track opens with a tight drum section, complete with punchy kicks and crispy percussions which settles us into a nice rhythmic flow. An elongated bass chord mesmerizes throughout, providing that pure deep house groove. The break reveals a soft, melodic pad as the chords fade out before the beats return for the duration. Simplistic yet highly effective, a must have for the late-night sessions.

The System takes us deeper still, with minimalism still in mind. Well-constructed beats made up of chunky kicks and sporadic percussions lead the way, crafting out a solid rhythm. A hypnotic pad lurks as a series of sounds and FX combine, adding an experimental edge. Dark voices add character to the groove which seems to go deeper and deeper. Top-notch stuff right here, and one that will not disappoint.

Unknown rounds up this EP with another solid, deep house groover. In keeping with the early morning theme of the package, minimalism is prevalent once again. With a super tight drum arrangement at its core, the track hones in on some nice sounds. Hypnotic keys join flurries of delicate patterns alongside a strong, plucky bassline. The contrasting, sharp percussions slice through the lower frequencies, creating a dynamic sound. A sublime cut that is a must have, no doubt.