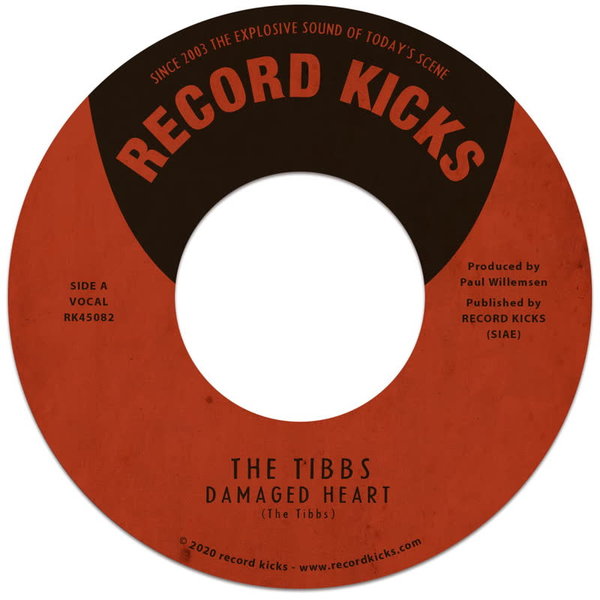 LIMITED EDITION 45 (500 copies Worldwide)
Record Kicks proudly presents "Damaged Heart", the first single taken from The Tibbs forthcoming new album "Another Shot Fired", that will hit the streets on November 20.
"Damaged Heart", a catchy mid tempo soulful gem, will be released on October 09 on digital streaming/download and a limited edition 45 vinyl. On the flip-side of the limited 45 the soulful album's bonus track "Ball and Chain". The 45 is limited to 500 copies worldwide.
According to the band, "Damaged Heart" is a love song and "It's about being in a relationship where something is just slightly off. Sometimes developing serious feelings for someone can be scary. Being vulnerable, and knowing that someone could hurt you very easily can be scary".
Based around Amsterdam, The Tibbs took off in 2012 working right from the start with producer Paul Willemsen (Beans & Fatback, Lefties Soul Connection, Michelle David & The Gospel Sessions). In 2016 their first LP, "Takin' Over" marked their debut with Milan based imprint Record Kicks. The singles "Next Time" and "The Story Goes" received critical acclaim on radio stations throughout Europe and North America and the 45s flew out the door in record time. The release of "Takin' Over" delivered the band far richer rewards. Playing sold-out venues in both Milan and Frankfurt. The Tibbs' profile rose further still with wonderful festival performances in Germany and Hungary, followed by a successful sold-out tour of Spain. In late 2018, Elsa decided to follow her heart and focus on a solo career. The Tibbs duly began their search for a truly worthy successor, bringing astonishing vocalist Roxanne Hartog and the band together for the first time. With new recordings in the bag and a great new album about to be released, The Tibbs are once more ready for lift off.