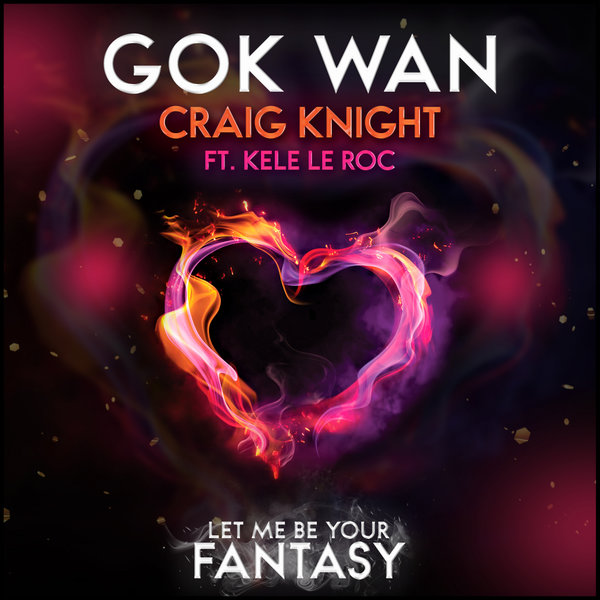 Gok Wan & Craig Knight ft Kele Le Roc
Out 11th September 2020
Onefold Records

Multi-award-winning UK Television Presenter, Designer, Stylist, Author and DJ; Gok Wan has ventured into the music studio to produce his debut release, 'Fantasy.'

Having originally rose to fame on TV screens across the globe presenting fashion, food and social documentary formats; Gok also landed 6 book deals, multiple global brand endorsements and has designed clothing and underwear both in the UK and Australia.

But, it isn't just fashion that rocks Gok's world! From a very early age Gok has been passionate about House music and in 2015 he turned his passion into a life long amity and began DJing; securing festival and club bookings around the globe, bringing his unique, 90's inspired and soulful house, music selection to music lovers of all ages.

During Lockdown, Gok started live-streaming his own events, titled 'Isolation Nation' which has grown at an astounding rate; rivalling many established DJs in his genre - amassing views of 100's of 1,000's per stream. His fun and unique approach to mixing and track selection has earned him the respect of many music industry seniors watching from all areas.

Gok has fronted many House music radio shows for SelectRadioApp and Gaydio and this year Gok was asked by the executives at Kiss FM, the UK's leading national dance radio station, to mix an exclusive show for Pride 2020. Having gained a lot of experience in the DJ industry, it was only inevitable that Gok would work on his own music. His ability to adapt and be creative meant he was able to make the leap and head straight into the studio. Having supported music by Craig Knight, Gok chose to call his friend and get the wheels in motion.

DJ and Producer Craig Knight is no stranger to the UK's dance music scene. Producing since 2010, Craig has amassed over 10 million streams across all streaming platforms. He has achieved major support from UK national radio stations including Kiss FM, Capital FM and Gaydio.

Craig released his debut single last year titled, 'Touch Me.' Craig's DJ career has achieved both national and international recognition.

Gok and Craig decided that their first release would be a cover of the classic anthem, 'Let me be your fantasy' by Baby D, which would need a vocal of the highest calibre... Enter Kele Le Roc...

Kele has worked with some of the most prominent players in music; Basement Jaxx, Masters at Work, Shola Ama, Shy Fx and so many more.

Having achieved massive success as a solo artist, Kele has won MOBO awards and probably has one of the biggest garage anthems of all time with, 'My Love.'

With over 30 years of industry knowledge, the UK diva was the perfect choice for the track.

'Fantasy' is a club-ready hit, that will get you moving straight away. The classic-sounding piano is a part of this iconic track, matched with Kele's vocal talent. It then switches up, and the bass line takes over. Bringing the energy along with the rolling drums, Gok, Craig and Kele bring 'Fantasy' into 2020 and beyond. Don't be fooled though, the production, execution and vocals mean you can expect to hear this played on every radio station and in every bar, club and on live stream across the world during the summer and months to come.