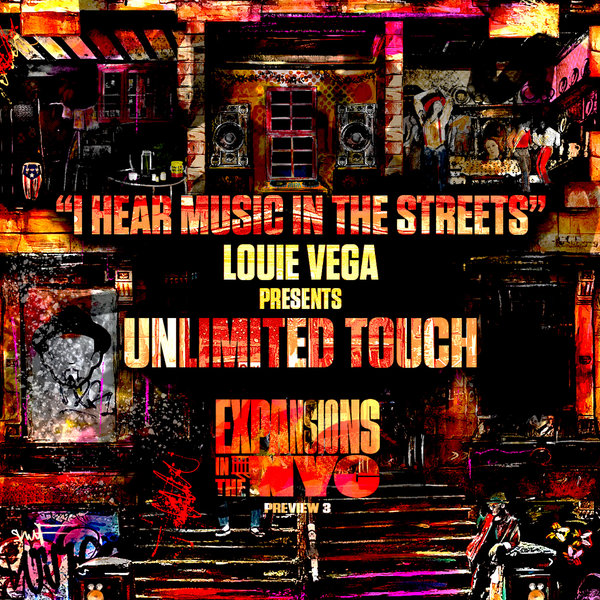 I Hear Music In The Streets - Expansions In The NYC Preview 3
Nervous
NER25039 | 2020-09-11
Grammy Award winner Louie Vega has the unique ability to spotlight and highlight the most essential elements of classic dance tracks and remix and recreate them to create something just as powerful for todays audiences. Currently in the midst of putting the finishing touches on his forthcoming album, Expansions In The NYC, Louie took some extra time to gather together the original members of the seminal New York based disco funk band Unlimited Touch and collaborate with them at Log Cabin Studio in Manhattan and his own Daddys Workshop Studio in New Jersey to produce the 2020 edition of I Hear Music In The Streets.

Unlimited Touch consists of Audrey Wheeler (lead singer), Phil Hamilton, Tony Cintron, Sandy Anderson (RIP), Stephanie James and Lenny Underwood. I Hear Music In The Streets was originally released on legendary imprint Prelude Records in 1981.

Growing up in the Bronx, from an early age Louie had an affinity and love for all the various musical genres that were bubbling up in New York during that era defining creative period. It is that passion that has stayed with him during a career that has brought him Grammys, several worldwide hit records, and a status as one of the worlds most sought after DJs. It was especially fulfilling for Louie to work with the original members of Unlimited Touch, He quickly realized that their talents were still as strong as ever as they performed musical and vocal elements from the original song, and that they had the vision to see how the song could be re-energized by having Louie add his unique production elements to this seminal tune.

Louie is in the midst of an especially prolific and productive period. In 2016 he released the Grammy nominated Louie Vega Starring XXVIII full length album; 2018 saw the release of the widely acclaimed and chart topping NYC Disco 2 X CD and 4 X vinyl album on Nervous Records. Known universally as The Maestro due to the standards of excellence he maintains in his productions, DJ Performances and live appearances with his Elements of Life Band, Louie Vega is now ready to unleash another gem to add to one of the music industrys most remarkable body of work.