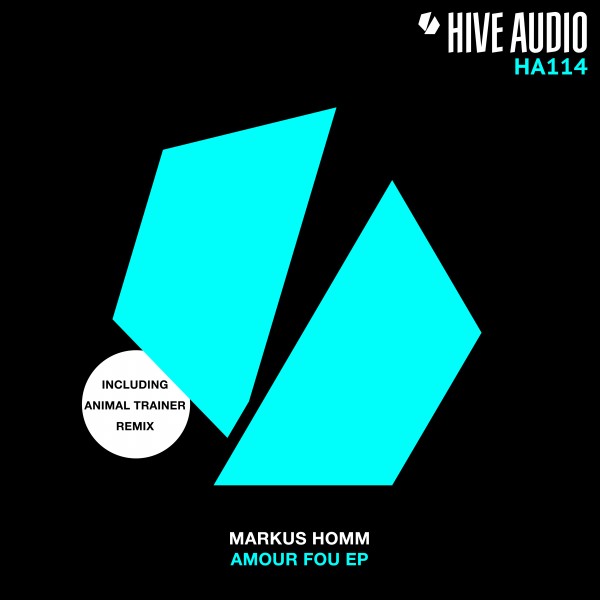 4056813187366 | 2020-09-18
Welcome back, Mr. Markus Homm! After his acclaimed Hive Audio label debut dubbed the "My Lead EP" the Berlin-based Romanian with a more than a decade spanning release history is making a return with his new four track piece – the "Amour Fou EP".

Going in head over heels with the title cut "Amour Fou" it is pretty obvious why Markus Homm's musical vision has become a staple on dancefloors worldwide – and this track is no exception to the norm. Take a pounding Tech foundation, sharp, distinct hi-hats and a blurred out, melodic, yet mystical atmosphere featuring several intertwined harmonic layers, stir the mix expertly in the studio and you'll end up with a timeless dancefloor tool that's about to resonate with punters and DJ's from a wide range of sub- and microgenres within the wide spectrum of dancefloor-focused electronic music.

In for a remix is Swiss producer duo Animal Trainer who is taking on "Amour Four" in his revamp version, slowing down the tempo to create a highly seductive groove monster which goes even deeper with its well percussive attitude and somewhat Arab / Oriental / Balearic plucked string motif alongside twisted, warped non-vocalisms and a large scale, drum roll driven breakdown paving the way for the playful, yet pretty psychedelic main part which is about to stand out in every open air festival set ever for a reason.

Furthermore "Pamona" sees Markus Homm on a stomping, stripped down House tip, fusing minimalist percussions with an ever rolling low end groove alongside deep and sexy, steadily morphing pads evoking memories both of Motor City Detroit as well as floating early 90s Intelligent Techno and therefore falling together nicely to create a positive playful cut for the wee hours in intimate electronic music settings.

Finally "Touch" weighs in a solid, highly captivating TechHouse vibe, once again rolling out a hefty low-end groove paired with classic, precisely sculpted stabs, Trance-infused build-ups, more atmospheric synth mysticism and an overall timelessness that is innate to Markus Homm's trademark production style.