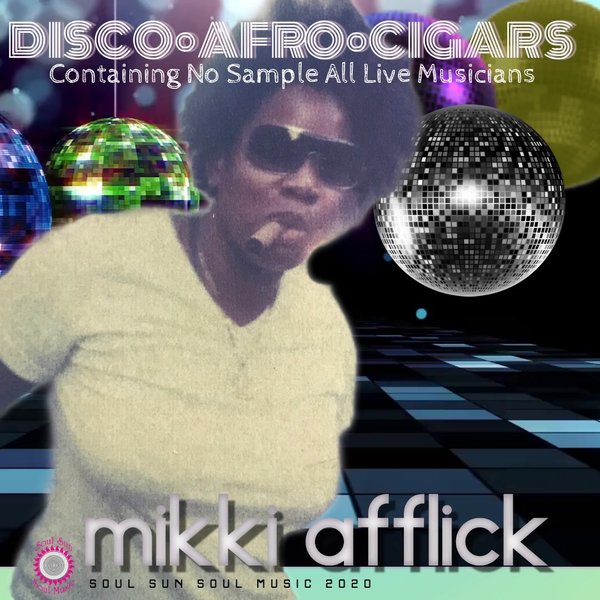 Reviews:
Soul Sun Soul Music is a very special and personal project by label owner Mikki Afflick who presents the phenomenal "Disco Afro & Cigars" where she reworks a few of her favorite jams from back in the day. While the tracks pay homage to the unforgettable original versions, they are all original compositions featuring live musicians (no samples used) and ooze with Mikki Afflick's very own unique sound. From the opening track "Aint No Mountain High Enough" featuring the incredible vocals of Anita Davis, over "Fly With Me (Brooklyn Butterfly)" (a remake of "Atmosphere Strut" by Cloud One) and "Journey To Paradise" (a rework of "Journey" by Powerline) to "Summer Love" (a tribute to Donna Summer and Giorgio Moroder), this is a scintillating musical journey not to be missed...Michael Fossati Spirits of House

All reworks produced by Mikki Afflick no samples used.

Musicians: Jerrell Battle, Mark Boogie Brown,Orlando Hewitt

1.Journey To Paradise
Produced by Mikki Afflick
Journey Powerline
Sojka, Pike
Elite Music

2.Aint No Mountain High Enough
Produced by Mikki Afflick
Vocals: Anita Davis
Aint No Mountain High Enough
Ashford & V. Simpson Universal Music Group

3.Fly With Me (Brooklyn Butterfly)
Produced by Mikki Afflick
Atmosphere Strut Patrick Adams Cloud One Universal Music Group

4.Summer Love I Feel Love
Donna Summer, Giorgio Moroder, Pete Bellotte Universal Music Group

Cover Designer/Graphic Artist: Mikki Afflick

By purchasing this release you agree you will not post any artwork, cover or any uploads that do not have a signed agreement with Soul Sun Soul Music. You are not allowed to sell or solicit free downloads of this release. No YouTube uploads, and or any other sites are permitted without written permission. To illegal sites who repost, legal action shall be taken.

For Licensing: soulsunsoulmusic@gmail.com

All Rights Reserved:
Soul Sun Soul Music Copyright & Publishing 2020
Executive Producer: Mikki Afflick.