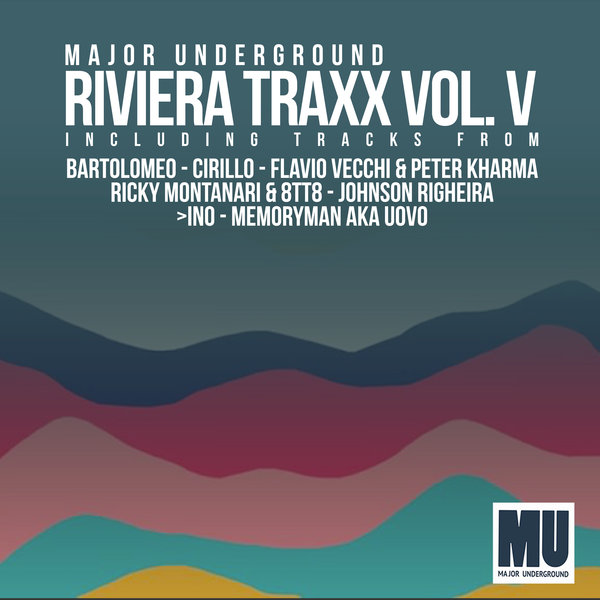 Major Underground proudly presents RIVIERA TRAXX - Volume V

A compilation with major tracks, revealing the finest Italian summer vibes. The Italian Riviera has always been the place with the highest concentration of clubs in Italy. The pioneer Dj producers Ricky Montanari and Flavio Vecchi, Cirillo and the crew from Rimini, have early imposed their unique sound and produced some of the most played and danced Italian House gems ever and their records capture the pure essence of original House Music. Joining to enrich the project is the infamous Johnston Righeira, internationally renowned for: Vamos a La Playa hit, but always keeping in touch with the clubs of his origins.

On the set opener, Johnson Righeira's Mille e una Notte (Ricky Montanari 95 unreleased mix) is a multi-tracked chorale with heaving synth strings and a velvet voice that punctuates the track.Magic Dunes from Flavio Vecchi & Peter Kharma is a deeper groove, blended with subtle elements and background instrumental sounds giving the track an irresistibly emotive drive. INOs Walkback (Original Mix) contains the same instrumental richness, as well as the same level of feel good vibes, adding up subtle hypnotic sounds and vocal bits. Ricky Montanari & 8TT8 slow the tempo with: Take 4 and perfectly combine house drums and vocal stabs into a down tempo beat. Memoryman heats things up with : Toro Seduto (Original Mix), that showcases power synths and claps, and a heavenly female voice over a grooving bassline. Bartolomeo gets into minimal house territory with Romagna Mia (Original Mix) featuring a rolling percussion, spiraling synths and emotive chords, almost organically sounding in his composition. Cirillo closes out the album with Tiritiri, heavy on the groove and taking a pattern of a trippy atmosphere, typical of his style of eclectic Djing, layered on a burbling synth line with a boundless percussive energy.

The richness of each track leaves us wanting for more and fulfills the aim of Italo House to show the genre's more sophisticated side.