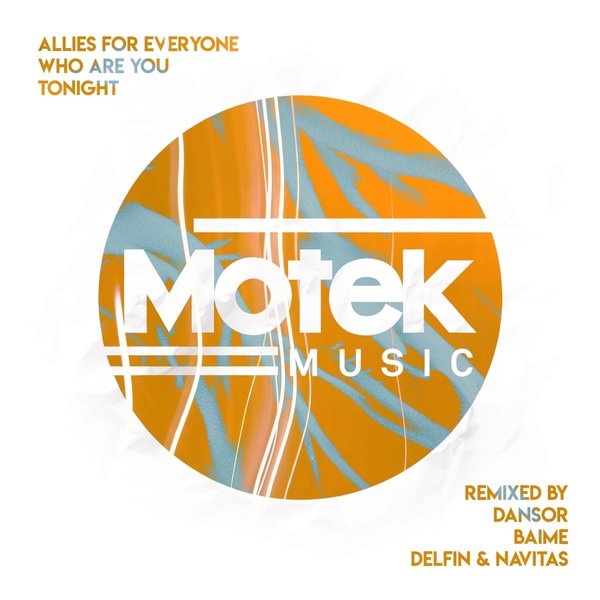 Allies For Everyone is back on Motek with 'Who Are You Tonight'. Listeners of Allies For Everyone's music will be accustomed to his deep and crisp production underlaying smooth and sultry self sung vocals, and this single delivers on all fronts. The track rolls effortlessly over a lightly chugging baseline with soft pads laying a background for guitar and pan flute textures to be picked out. Reverbs and delays on the key instruments provide atmosphere and depth while well placed percussive parts add to the punch and groove of the piece. The production is finished off with vocal effects and textures which underpin the main vocal.

We are excited to welcome Dansor back on remix duty along with newcomers to the label Baime. Motek's own Delfin and Navitas bring a breaks flavour to complete the line up.

After an atmosphere building instrumental, Dansor has ramped up the original to the peak hour. Faster moving parts within the beats section and stab synth 16th notes give the track this quicker feel while the arpeggiating lead drives the melodic overview of this remix. At times jarring synth play brings tension and release into a mix that manages to expertly blend warmth and punch.

Baime take their version from the deep and driving, to the hands in the air. An almost middle eastern feel is given which is driven by the fantastic use of percussive drum and conga textures, tambourine shakers and choice of instrumentation in the statement making lead synths. The track develops carefully and creatively to its full crescendo in the last couple on minutes with a masterclass in arrangement.

Finally Delfin and Navitas have gone for a full on breaks feel with their remix. Punchy beats sections and dubby bass elements make this track all about the groove. Energy is sucked out and gradually built back in the musical sections to create balance between the harder hitting and softer atmospheric. Stabs, and effects add interest and surprise in a remix that will unashamedly keep you moving.