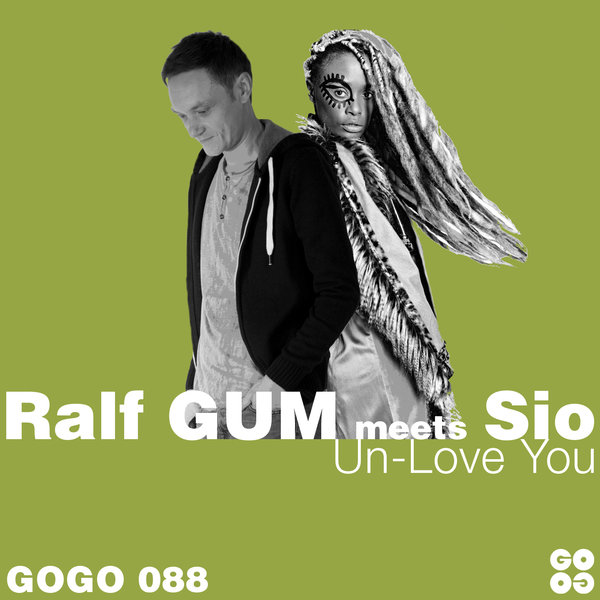 GOGO Music is excited to present another single collaboration by Ralf GUM who joined forces with South African songstress Sio to add another highlight to his glorious catalogue. "Un-Love You" contains all the right ingredients to become a future classic, a beautifully written vocal underpinned by an outstanding production with driving baseline, real Strings, Piano and Trumpet.

Ralf GUM has been a lead-figure within the music scene for more than 3 decades in which he released countless songs which were dubbed as "masterpieces" or "instant classics". In 2020 he seems to be on a run and has so far put out three highly acclaimed singles which all charted on various download-platforms. Never swaying from his passion, GUM is globally renowned for shaping and innovating extraordinary DJ-sets and productions. Already his masterful debut album "Uniting Music" framed his unparalleled impact on the music scene. Bringing global success, Ralf's trajectory as a trendsetter began and since then every new release comes with high anticipation, while Ralf's music continues to redefine the genre.

Sio used music to express herself and get lost from the world already at early age and has now adapted to telling her story through music and poetry. A lover of words and melodies, her art often gravitates towards dark imagery. She weaves love, thoughtfulness and a dash of rebellion in her work. As a loyal underground music lover, Sio knows how to tell a story that graces people's ears around the world and connect with them with her soothing voice. Already in 2018 she held the number 6 spot on the Traxsource top 100 Vocalists and since then added many more hits to her discography. On "Un-Love You" she pulls all stops and comes with though-provoking lyrics sung in her unmistakable way.

GOGO Music proudly presents this collaboration between Ralf GUM and Sio, who effortlessly managed to create this outstanding record "Un-Love You".

Tracklist:

1 - Ralf GUM Radio Edit
2 - Ralf GUM Main Mix
3 - Ralf GUM Main Instrumental

GOGO Music ... music it is and is it!

Written by Siobhan Lulama King, Michael Ehnes, Ralf Benkert.
Produced by Ralf GUM and Michael "Nivalito" Ehnes.
Lead vocals and Background vocals by Sio.

Drum programming, Congas, Bongos, Shaker, Woodblocks, Bell, Moog Voyager, Synthesizer: Ralf GUM.
Fender Rhodes, Piano, Lead, Synthesizer: Michael "Nivalito" Ehnes.
Strings: Evert van Niekerk.
Trumpet: Neil Engel.
String and horn arrangement: Michael "Nivalito" Ehnes.

Mixed by Ralf GUM.

Mastered by Masterlab.de.
Published by Sony ATV, Copyright Control, GU Music Publishing.
P&C GOGO Music 2020.