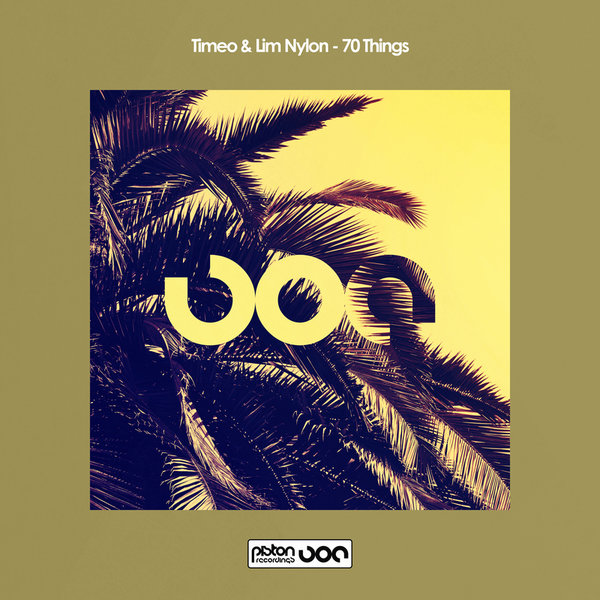 Slovenian DJ, producer duo Timeo and Lim Nylon debut on Piston Recordings with the fantastic 70 Things. Timeo is mostly known for his DJing prowess, playing at big events alongside top jocks from around the world. He has delved into the production world in the past and has worked alongside Lim on several occasions. Lim Nylon's taste in electronic music was defined by the Slovenian scene which got him into playing Techno. Production soon followed and since the end of 2019 he has churned out top-notch cuts on several labels. Now, in 2020, he is turning his skills towards House music and a new adventure begins.

The Original Mix opens with a pulsing bass note and delicate atmospherics. A muted kick leads to a solid, punchy kick and a shuffling percussion sequence. The bassline delivers a smooth, funky pattern alongside cool vocal shots. Filtered piano chords add that house flair to the groove while silky sax riffs get the hips swaying. Excellent stuff that is not to be missed.

Lebedev (RU) is back with a superb Deep House inspired remix, which comes after his last outing here with Susceptibility. Maxim grew up listening to electronic music, it was Daft Punk's sound that really got him hooked. He started to work on his own tracks at just 16 and he quickly found that House music was where he wanted to be. Here, the remix dishes out a wonderfully rich and warming vibe. Hi strings add a classic touch as tight beats and warm basses combine. The break is a fantastic sequence in the track, keeping us locked on until the climax eases us back into full swing for the duration.

Din Jay returns to Piston on remix duties, delivering a fine House joint in the process. Dino started getting into electronic music at 14 after he attended a club. Since then his passion for electronic music became stronger. Thanks to his talent and production skills he got noticed by several important labels, releasing his first efforts in 2016. Several other releases followed and he garnered respect from fellow producers. The remix offers up a bright, upbeat house joint that will definitely keep the floors rocking. Solid beats drive the groove as spritely piano riffs dominate. A groovy bassline is joined by short vocals and filtered piano before those pianos open up, attracting booty's' to the floor.

We welcome Luis Bravo back to Piston with his Dub Thang Remix. A stalwart on the Portuguese underground scene, Luis has inspired many with his sound. His music comes from the soul and he's built up a solid rep among his peers and fans alike for this emotive and pure style. Always a pleasure having him here. Luis' remix here takes us deeper into the groove. A powerful kick drum is accompanied by sharp hats and rhythmic percussions. Distant voices add character as dark pads create an atmosphere. A hypnotic 303 laced sequence dominates, giving the track that deeper, darker vibe which will definitely appeal to the late-night sessions.