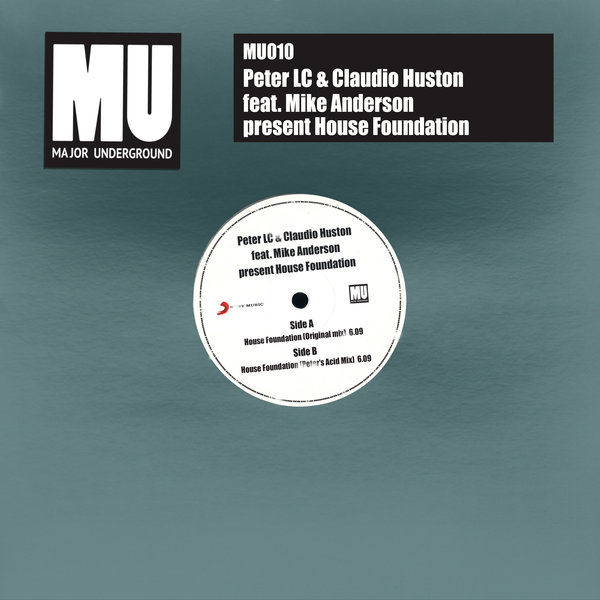 Peter LC & Claudio Huston feat. Mike Anderson drop epic new single,House Foundation. As the title suggests, House Foundation, takes us on a trip back in time to House Music's golden age, when dance music was a cultural phenomenon that was bringing people together, it didn't matter the race or sexual orientation, it was all about embracing our differences and share a spiritual experience with the Music, as one. Original Mix is a classic! Inspired by Chicago House anthems and powered by emotive synth chords, shining piano riffs and the thrill of joy every time you hear the spoken word vocals from Mike Anderson, discussing the feeling and meaning of house music. I need House he incessantly says. On the top of it you get a heavy, rolling bass beat that immediately makes you jack your body!
Acid Mix is a techy ride, loaded with an intense acid bass and teased with the infectious vocals. House Music aficionados will definitely find themselves in this refined and distinctly Chicago House feel.

Tracklist:
1 - House Foundation (Original mix)
2 - House Foundation (Peter's Acid House Mix)

Biography

%u2018Not the beauty, the music will save us, says Claudio de Tullio aka Claudio Houston, a Dj from Bari (Italy) with a big heart. Passionate about music since he was a child, Claudio is a 'peace and love' boy full of energy. Unconventional and curious, for many years he has been the resident Dj at Borgo Egnazia, elected best hotel in the world from 2016 to 2018 chosen by the most famous celebrities of the planet. Electric musician and passionate about house music, Claudio has Frankie Knuckles, legendary Dj at Gallery and Paradise Garage in New York, as a role model. Claudio, like Knuckles, talks to people through a very selected and precise music repertoire. %u2018Hey Dj put a record on%u2019 we may say while we see him dancing behind his console.

Pietro La Calamita aka Peter LC fell in love with music at a very young age, inheriting the passion for the early sounds of 70's disco from his father, a vinyl enthusiast. The art of DJing soon became his new way to express himself and after several years of dedication to music, he decided to name his deejay/producer project: Peter LC. His music selection is marked by constant research focusing on house music and including tracks which are deeply rooted into disco, jazz and funk. He loves to mix 70's italian records with the most avant-guard sounds, both digital and vinyl releases. Peter comes from Matera, south of Italy, where he had the chance to present his music to thousands of people, sharing the decks with remarkable international artists such as Marshall Jefferson, Omar S, Mike Anderson and many more coming from the house scene. His mission is to combine the passion for house music with a strong environmental awareness.