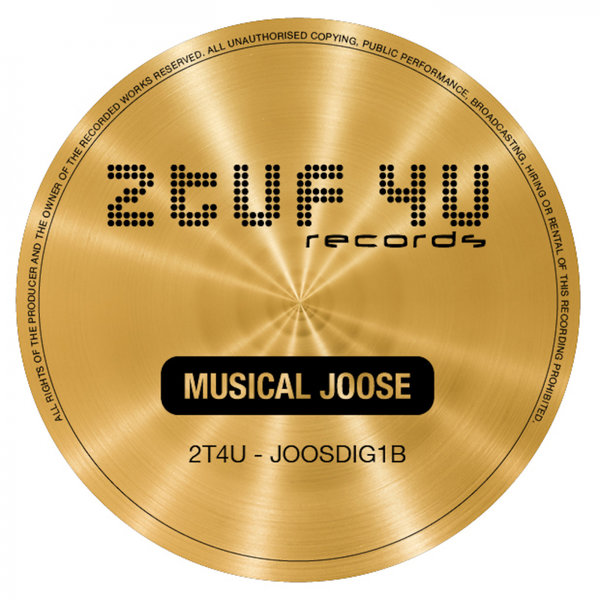 2T4UJOOSDIG1B | 2020-07-24
The MUSICAL JOOSE SERIES is the new concept from the established House & Garage label 2TUF4U Records, owned & directed by Producer & Production Tutor of his own private school Mr Karl 'Tuff Enuff' Brown formally of Tuff Jam, who after over 20years in the industry knows & specialises in this genre of music. This release thus reminds us that they are continuing to grow the next generation of producers from this stable and will keep bringing some of the most upfront sounds to the 20's.

''2TUF4U was founded in 2002, Karl Brown of Tuff Jam has established the label as a go to place for Garage music. Being at the forefront of the scene for a number of years, it continues to release great tracks with no surprise. After the success of the latest Groove Skool EP's, another amazing collection of underground beats is about to be released. This is sure to spark the intrigue of loyal fans and the new generation who are creating new momentum in the scene. The Musical Joose has already hit No.1 in the Junodownload's Garage Album Chart and also features some established names, with some fresh talent and the first release from the Madd Tuff Project, a collaboration of Karl 'Tuff Enuff' Brown and legendary DJ Maddness (K.M.A). This is sure to cause interest for new and old-skool audiences alike! Additional tracks include the silky vocals of, (Helen White 'Say If You Want' and bumpy vibes from Confused Identity with 'Much 2 Much', USB Connection 'E Dat' and some 2 step action from 4Stepz Ahead 'All The Same', and heading up with another hot garage cut from US vocalist Ms Barbara Tucker on the song 'Better' remixed by Scott Tonic, but more than that, he as also done something else with this new EP by adding pre-released material for good measure of some tracks that the label thought may have been missed by those who loved this sound by adding such tracks as Fully Loaded Project Y.O.U. - EL-Tuff - Xavier just to name a few....

As you can probably tell by now, the Musical Joose is no small body of work, featuring 30 tracks that are all just as good as each other, with absolutely no filler. And the other great thing is that this release can play out much like a mix CD from back in the day, as it has been compiled perfectly from start to finish. It has been supported by hugely influential figures such as DJ Pioneer of Kiss FM, Matt 'Jam' Lamont and DJ Marvin Swiftfinger G of Urban Movement Radio Australia, whilst also being hammered on DJ Maddess's show on Flex Fm & his Instagram live each week and the also by the VIBESEY Collective. Further support comes from big names DJ Spoony, Norris Da Boss, DJ Dappa, DJ Brite, Sammy Virji, Marcia Pinna (Aura T-09) and John F in the US'.