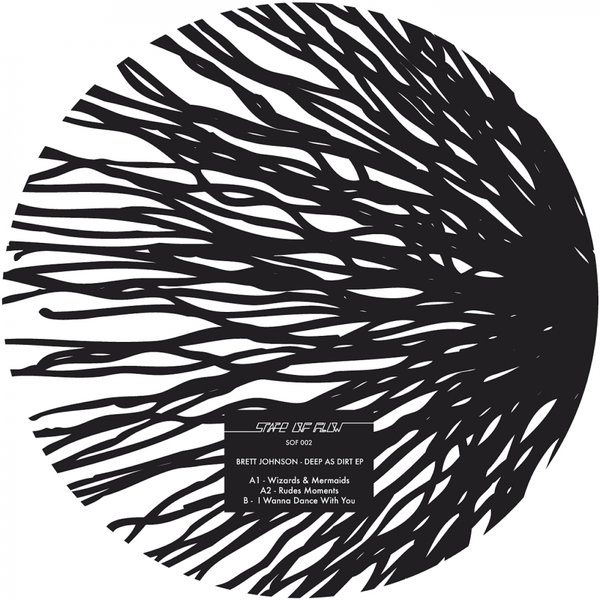 State of Flow Records brings you their second release from Brett Johnson, after the sell out success of their first release. Started by Igor Vicente in 2013, State Of Flow shows no signs of slowing down. State Of Flow started out as a nighttime residency at Fuse in Brussels and has gone onto launch a vinyl only record label.

Brett Johnson in a nutshell.
With influences ranging from early house and disco to turntablism and techno, Brett Johnson successfully straddles the line between knowledgable 'thinking man's' DJ and genuine, primal floor-filler. Brett's sound is best known as groovy, bumping house with a hearty dose of techno elements, crafted and mixed in a way that is truly identifiable as his own. Whether DJing or creating music, his wild card is an ability to inject warmth and soul into his electronic sound. The result is an impressive discography filled with unique statements, otherworldly surprises, and undeniable club stompers.

Having released his first record in 1999 on the now defunct, Aesoteric Records, Brett has released over 100 records and remixes. For some of dance music's best labels including Classic Music Company, Magnetic, 20/20 Vision, Get Physical, Visionquest, Freerange, Cynosure, F-Communications, the list goes on and on. Aside from a busy remix schedule, Brett is currently releasing his music on the labels Edible, Classic Music Company, Cuttin Headz, Holic Trax and of course, State Of Flow..


A1 - Brett Johnson - Wizards & Mermaids

State of Flow's second vinyl imprint starts off with Brett Johnson's trippy, minimalistic 'Wizards & Mermaids'. The song begins with energetic hi hats, swung percussion and a groovy baseline. The progressive build up throughout the track gives it a mischievous feel.
The edgy sorcerer vocals and airy melancholy add a unique touch and gives meaning to the name of the track - 'Wizards & Mermaids'

A2 - Brett Johnson - Rude Moments
Brett Johnson's 'Rude Moment's has a gripping, punchy bass line and get's your feet moving from the start. The raw machine synth fade's in and out giving this track a unique dirty tone.
The hi-hats give this track it's energy and groove and keeps in line with what Brett Johnson is known for, groovy, bumping house with techno elements.

B1 - Brett Johnson - I Wanna Dance With You
Johnson's final track 'I Wanna Dance With You' kicks off with a high-energy intro of intriguing hi-hats. The progressive build up of tension drops into a groovy tech-house track filled with jazzy, carnival chords accompanied by a deep vocal.
You can't help but dance to this track as the energy builds with each beat leading into some badass drops bound to get the immediate attention of any dance floor.