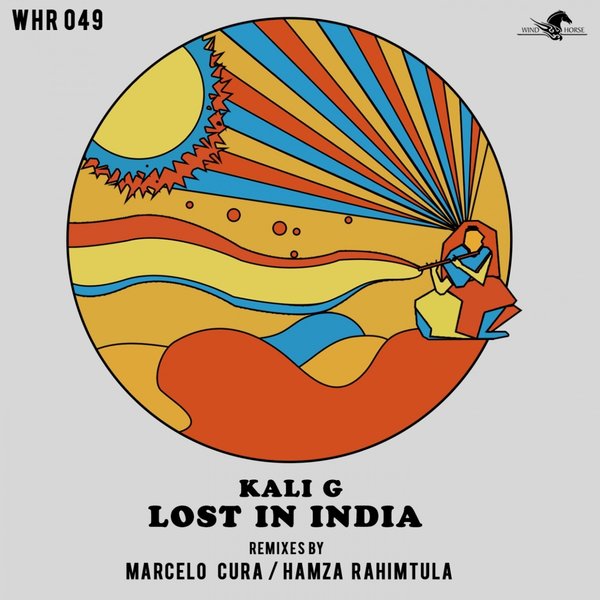 During uncertain times, music will always be a saviour that transcends boundaries. With this in mind, we once again welcome one of the most prolific contributors to the Wind Horse Records and an artist who needs no introduction - Kali G. The sonic fabricator from Morocco fashions another essential four-tracker called "Lost In India", in his aural image. The Ep stems from his many travels to the Asian region and is his way of giving back to a country that has inspired him as an artist. This also happens to be his 5th release of musical works on our label and is right up there with the rest!

Inspired by his many visits to the spiritual peninsula, Kali G's first track 'Flute In G'
Begins with a rapid - kick-drum, snare and hi-hat groove that's interspersed with traditional vocals from a classical musician. As the track grows, a low-ended bassline breaks through, lending the track a sharp character that immediately gets you to take notice. Stabs of traditional Indian flutes meet with cosmic synth keys to make up the greater portion of the track. As the song progresses, this duopoly gains prominence leading into an extremely well-constructed breakdown that also includes smart bassline modulations that definitely raise the level of suspense and expectancy. A simple, yet powerful no-nonsense tune that can hype up any crowd of listeners.

The well-travelled DJ/producer Marcelo Cura uses his arsenal of international exposure and experiences adds a twist to the original with a minimalistic approach to begin with, in his remix. Retaining the percussive vibe and morphing the bassline subtly, he manages to simplify the track to make it spew groove. The addition of ethereal and mesmeric atmospheres lends the track an inescapable excitement that powers the listener through. The track retains these flavours as it stamps its own identity while managing to remain a powerful mover. Less is certainly more in this case as the rework spins a web of brilliant sounds that instigates a reaction, forcing listeners to move and shake. Don't be surprised to hear this bomb being dropped at a stream near you, sometime soon!

Kali G's next offering on "Lost in India" is C- Thar, a joyful auditory representation of the instrument Sitar and 'Thar' region in India - a desert that is often an oasis for folk culture and ethnic sounds. The track begins with a familiar rhythm that consists of a raspy kick-drum accompanied by intricate percussions that lend an organic aura. As we move deeper into the offering, an emotive strum of a stringed instrument comes into focus acting as an accomplice to the notorious groove that's been construed. A lush, galactic pad joins the mix and helps complete the majority of the track. The beautiful symbiosis of modern electronic sensibilities meets age-old melodies, that certainly echo the inspiration that it was drawn out from. We're pretty sure this one might move up on your playlists!