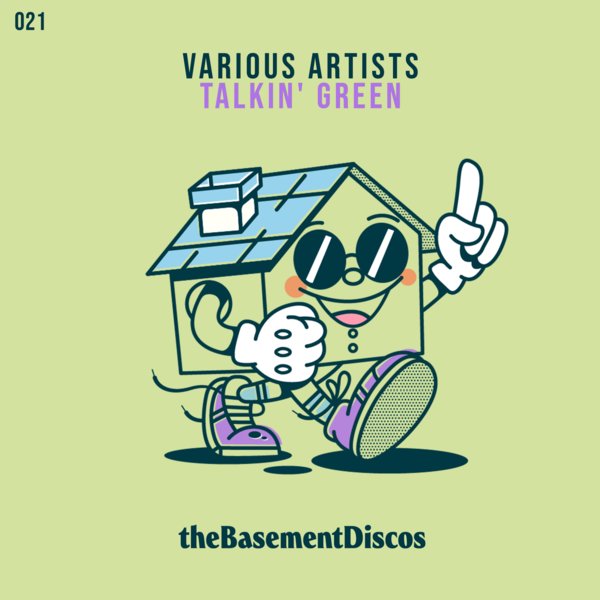 theBasement Discos presents its fourth compilation name TALKIN GREEN. After other successful VA EPs (TERRAZA, HORCHATA and BEYOND PAELLA) the Valencia-based label strikes back with 9 tracks that will get everyone in a good vibe and on their feet.

Be ready to explore tracks coming from all four corners of the world. Starting with the French duo Fahy & Sanchez and their track called "Something", a disco tune with funky electric guitar sounds, perfect for those boogie summer nights. Also from France, Wikett makes his second appearance in theBasement with Jimbo, a pure disco banger with some well-known sampling that probably will ring your bell.

Londoner Donny Rotten shows his best disco side with "Clean Up Duty", a track with the right upbeat feel and vocals with a speedy-feel to it which makes out of this belter a real dance-floor killer.

Heading to the North American continent we can find Californian DJ and producer At Dawn delivering a groovy vibe with %"What Goes Up, Gets Down", combining elements of the sound of 80s cosmic disco and modern-day house.

Still on the American continent but now from New York, we have Azuro with "Get Up Larry", and Pedro Cañas with "Excuse Me", this time including deeper notes to its tune.
Finally, it is German artist Sam Paradise that makes his attribution to the album with "Extra Boogie Sauce" serving some melancholic melodies combined with really funky guitar riffs.

We also welcome back our hometown producers Whatever Charles with his track Secrets & Spies and Kostrok with Limbo. Two Valencia originated tracks but two different moods, but both with their own homeboy signatures.
All in all, a compilation album worth listening to with an international feel.