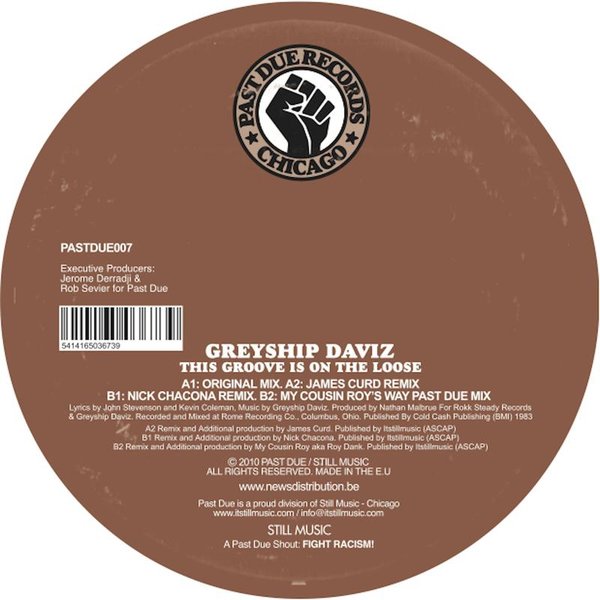 Jerome Derradji pulls another Boogie Down Disco Jam from the Past Due Archives with 3 stunning cosmic disco remixes from James Curd (Greenskeepers Music , DFA), Nick Chacona (Bear Funk, Mood Music) and My Cousin Roy (Wurst Records)

Greyship Daviz are:

Keith Alexander (Kid Daviz) - Guitar
Kevin Coleman (Cap Daviz) – Guitar & Vocals
Timmy Houpe (The Muscle) - Drums
John Stevenson (Johnny Daviz) - Bass
Jay White (Jay Daviz) – Rhythm Guitar & Vocals
Billy Gooch (Billy Daviz) – Lead Vocal & Percussion
Cornel Scott (Cornell Daviz) – Keyboards & Synthesizers
Linus Harriston (Linus Daviz) – Hammond B-3 & Vocals
Rico Fillmore (Rico Daviz) - Percussion

Greyship was a mid-1970s Westerville rock band who hired a temporary vocalist named Davis. After billing themselves as Greyship & Davis, it simply made more sense to call themselves Greyship Davis. After the singer and band parted ways, they kept the name, only adjusting Davis to read Daviz. As the band matured, they scrapped their format of Zeppelin and Sabbath covers for a more creative approach. Influenced by groups like Mother's Finest, Funkadelic, and Earth, Wind, & Fire, they moved into a more funk-rock mode by 1977. Johnny Stevenson recruited the members of a local vocal group who could also play instruments to fill out the experiment.

Greyship Daviz never became known as recording artists, but as live performers they tore up the entire nation. Their tours were the stuff of myth and legend. They had a self-contained operation that included special effects on stage, full make-up, outrageous costumes (their tailor traveled with them), top-line lighting, high-test sound, and a full-size bus converted literally into a gray spacecraft. They only went by the stage monikers that linked them as an outlandish family unit. Their only studio recordings failed to make an impact for two reasons. They were released after their prime, and they could never live up to the phenomenon of the live act, but for underground disco it is at the highest level.