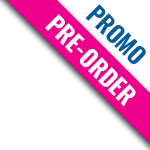 DELVE086 |
Pre-order for 2020-04-10
Krobman are a Polish DJ/producer duo that have releases on labels such as Houbless Music, Smashing Trax and S6A. Their style drifts between deep and and energetic bumpy house.

Sadly, in life all good things must come to an end and 'Farewell EP' will be the duo's final release together, which is an honour that it falls upon DDR to release.

The EP meets the high standard that they have set with their previous releases. It offers 2 tracks of moody, deep and bass heavy house, a fitting finale and an EP which will no doubt stick around on the dance-floors for a long, long time.