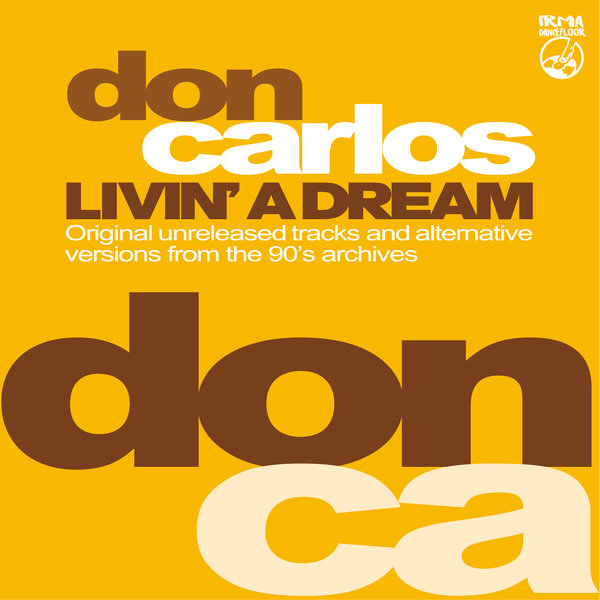 DJ Don Carlos (born Carlo Troja, from Varese-Italy) with his productions in the 90s has become one of the cult producers for DJs around the world.
His track Alone released in 1991 for Calypso (under the Irma Records label) was and still is one of the classics of House Music, played by all the major American and British DJs.
At the time of its publication it was considered an underground song and therefore did not sell very much, but over the years its myth has grown thanks to its subsequent productions as for example his second single, the EP entitled Mediterraneo, title which it will then inspired his first CD album printed in the USA with the same title.
Several other singles followed, another album, always printed only in the USA, entitled Aqua, from which a triple promo vinyl was extracted which today is one of the artist's most requested rarities.
In Italy his third album was released in 2002 entitled The Music In My Mind where Kim Mazelle, Michelle Weeks, Taka Boom and Kevin Bryant were present as vocal guests. In 2009 a collection of the first two albums released in the USA titled Mediterraneo-Club Favourite Collection '90-98 and in 2010 his fourth album entitled The Cool Deep which reproduced the sounds closest to his first productions.
Also active as a remixer for Italian and international labels, one of his most important works is the remix of Byron Stingily of the song You Make Me Feel of which he made a worldwide hit. As a producer he also used other pseudonyms such as Montego Bay, Aquanuts, Sotterranea and Love 2 Love Orchestra. He has played and plays in different countries such as London, New York, Miami and at various festivals, such as the Robot and the Stickermule Festival in an evening with Apparat, Derrick May, DJ Koze, Lil 'Louis, Young Marco and Ellen Allien, LTJ Xperience .

His peculiarity has always been the musicality of his productions, thanks to the various musicians who accompanied him in the studio, which created a sound that defined in the 90s some of the House's subgenres such as Paradise House and the Ambient House.
And this is the kind of sound that compose this new release of Don Carlos entitled Livin a Dream (the name of his Radio Show).
It is a collection of unreleased tracks or alternative versions of tracks all produced in the 90s, collected on a double vinyl of 12 tracks and a double CD of 22.
In the digital version the total tracks will be 23.
The productions made by the artist in those years were numerous and therefore a selection work was done in his archive to find the best of his sound that has remained unpublished to date!


Il DJ Don Carlos (all'anagrafe Carlo Troja, da Varese-Italy) con le sue produzioni negli anni 90 è diventato uno dei produttori culto per i dj House di tutto il mondo.
Il suo brano Alone uscito nel 1991 per la Calypso (sotto etichetta della Irma Records) è stato ed è tuttora uno dei classici dell'house, suonato da tutti i principali dj americani e inglesi.
Ai tempi della sua pubblicazione era considerato un brano Underground e quindi non vendette moltissimo, ma negli anni è cresciuto il suo mito grazie alle sue produzioni successive come il secondo singolo, l'Ep dal titolo Mediterraneo dal quale poi venne preso spunto per il suo primo album in CD stampato in USA con lo stesso titolo.
Hanno fatto seguito diversi altri singoli, un altro album, sempre stampato solo in USA, dal titolo Aqua, dal quale fu estratto un triplo vinile promo che oggi è una delle rarità più richieste dell'artista.
In Italia è stato pubblicato nel 2002 il suo terzo album dal titolo The Music In My Mind dove come ospiti vocali erano presenti Kim Mazelle, Michelle Weeks, Taka Boom e Kevin Bryant. Nel 2009 una raccolta dei primi due album usciti in USA (introvabili) dal titolo Mediterraneo-Club Favourite Collection '90-98 e nel 2010 il suo quarto album dal titolo The Cool Deep che riprendeva il suoni più vicini alle sue prime produzioni.
Attivo anche come remixer per etichette italiane e internazionali, tra i suoi lavori più importanti si ricorda il remix di Byron Stingily del brano You Make Me Feel di cui ne fece una hit mondiale. Come produttore ha utilizzato anche altri pseudonimi come Montego Bay, Aquanuts, Sotterranea e Love 2 Love Orchestra. Ha suonato e suona in diversi paesi come Londra, New York, Miami e a diversi festival, come lo il Robot e lo Stickermule Festival in una serata con Apparat, Derrick May, DJ Koze, Lil' Louis, Young Marco e Ellen Allien, LTJ Xperience.

La sua particolarità è sempre stata la musicalità delle sue produzioni, grazie ai vari musicisti che lo hanno accompagnato in studio, che ha creato un suono che ha definito negli anni 90 alcuni dei sottogeneri dell'House come la Paradise House e l'Ambient House.
E proprio di questo tipo di suono è composta questa nuova uscita di Don Carlos dal titolo Livin a Dream (il nome del suo Radio Show).
Si tratta si una raccolta di brani inediti o di versioni alternative di tracce tutte prodotte negli anni 90, raccolte in un doppio vinile di 12 brani e un doppio cd di 22.
Nella versione digitale le tracce totali saranno 23.
Le produzioni fatte dall'artista in quegli anni erano numerose e quindi nel suo archivio è stato fatto un lavoro di selezione per trovare il meglio del suo suono rimasto ad oggi inedito!