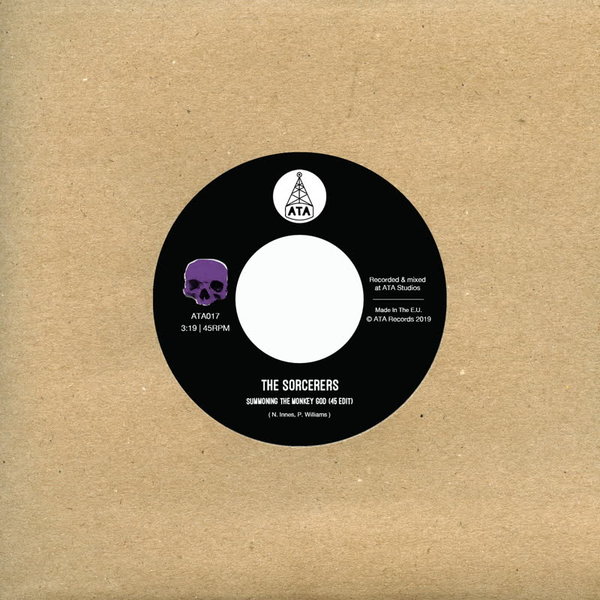 ATA Records are proud to announce the new 45 from The Sorcerers. Taken from the upcoming LP 'In Search of The Lost City of The Monkey God', 'Summoning The Monkey God' covers a wide range of influences: Ethiopiques Ethio-Jazz rubs up against European library music of the 60s and 70s. The Sorcerers seamlessly blend these disparate elements into one cohesive sound. Based in ATA Records' home of Leeds, The Sorcerers form the backbone of the ATA Records house band including drummer Joost Hendrickx (Kefaya, Shatner's Bassoon, Abstract Orchestra) and ATA label heads Neil Innes (Bass & Guitar) and Pete Williams (Woodwinds & Percussion). Bass clarinets, flutes, and esoteric percussion that sit alongside bass, guitar and drums are essential to The Sorcerers sound providing cinematic textures on top of a solid rhythmic foundation.

'Summoning the Monkey God' is an edit of a track from their forthcoming 2nd LP. Hypnotic bass and ominous vibraphone set the stage for creeping guitar and menacing drums. Flutes and Bass Clarinet push through the undergrowth with the tracks main theme before disappearing back into the shadows of the jungle.

The b-side 'End Credits' is also taken from the album alongside an exclusive 45 only version 'End Credits (Alternate Version)'. Both b-sides feature Flautist Chip Wickham ('Sombra' & 'Shamal Wind' - Lovemonk Records). 'End Credits' conjures up images of Isaac Hayes and 70s exploitation soundtracks, with the alternate version spilling over with Chip Wickhams trademark flute fire alongside wah wah guitar and furious drums.