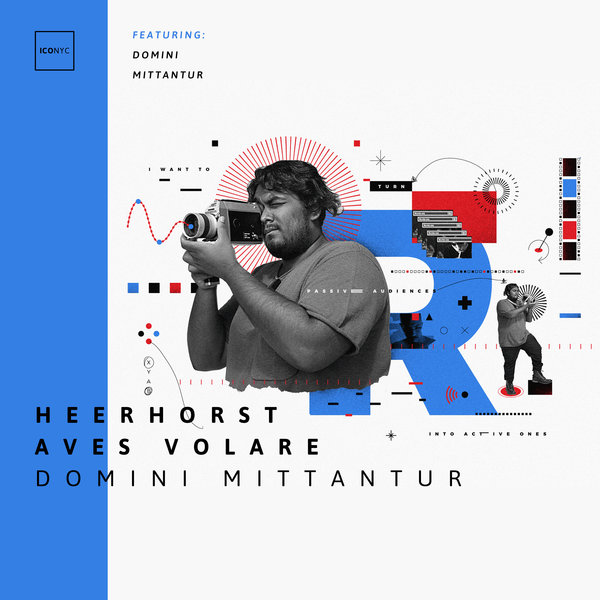 With 'Domini Mittantur' we welcome German / British duo Heerhorst & Aves Volare to the label. With successful releases in recent history the duos first outing on ICONYC follows on seamlessly from where they left off with their solo work. The EP kicks things off nicely with 'Mittantur' and its forlorn moodiness that shines through, as we stroll effortlessly through club inspired melodies, while the sweltering chords sit wonderfully on top adding an extra layer of depth. The track continues to build on an unyielding foundation of deep percussive grooves and bass-lines. ' Mittantur' is a skillful piece of music that highlights the duos palpable talents.

Next up we have the wonderful 'Domini' which features a polished and sophisticated sound profiling, as the pulsating bass powers along, before its drum fills and general warmth all combine to do the talking. Like something from yesteryear, yet sounding fresh and upfront. The transcendent vocals which are provided by Mr. Volare himself, take the energy levels up a notch, increase the élan with stripped back and lucid elements, before the luscious pads change the vibe and create a blanket of balminess that wraps around the accomplished groove. 'Essential stuff'!

Heerhorst & Aves Volare created a wonderful EP full of tension from the word go. The introduced atmospheric vibes throughout intelligently keeps you moving with warm dynamic sounds, a smooth driving edge and fine percussive fragments. We basically have the formula for a bit of a monumental outing. It's all about the energetic groove and cool club vibes that are working their magic around the duo wonderfully arranged original that create an irresistible sequence while taking the mind on a trip.

Heerhorst & Aves Volare's 'Domini Mittantur' is a true dance-floor mammoth, in every sense of the word. Another essential release from ICONYC aimed straight at the soul, be ready to dance to it! 'Domini Mittantur' will see a worldwide release on November 25th, 2019. Miss this at your peril!!