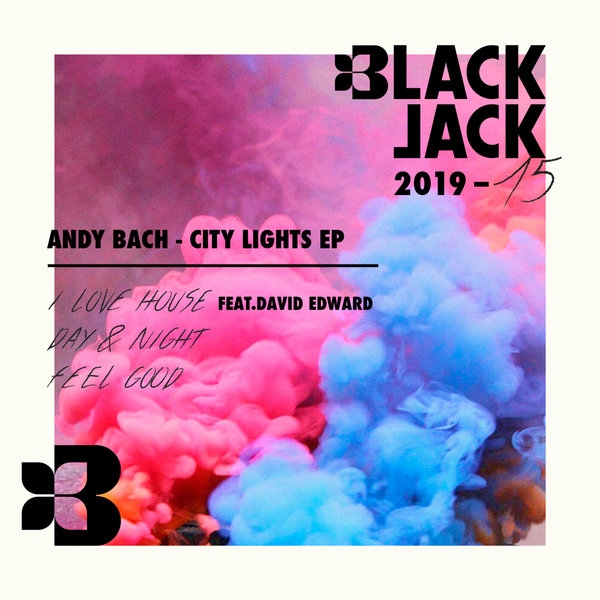 Black Jack 2019-15 Andy Bach City Light EP
It can be seen and more importantly it can be heard: Andy's experience with house music goes back to the mid-90s, From Germany, the young musician and DJ was trying to get his hands on everything he heard on Germany's best clubs ; of course at the the time the classics came from Chicago or New York but also from the German produceurs who imposed their sophistication with labels that have been amongst the pioneers of house music and are still respected today .
This 'classic' house music vibe is the heart of Andy Bach's debut EP on Blackjack with an opening track, I Love House, quietly devastating with its unstoppable funky bass and vocal hook sung Barry white style by David Edward.
In the continuity, Day & Night draws on the inheritance of the filtered house for a catchy track based on a loop that is difficult to identify but that we have perhaps heard hundreds of times: the tour de force of the producer is to propose something new and always fresh.
And for fans of more sneaky type of house music , there is the beautiful Feel Good, which oscillates between downs and ups for a house ritournelle in outer space.
Andy was recently discovered on Piston Records and for his first ep on Blackjack , he knocked it out of the park .


Black Jack 2019-15 Andy Bach City Light EP
Ca se voit et surtout ca s'entend : l'experience d'Andy avec la house music remonte au milieu des annees 90, l'Allemand, jeune musicien et DJ, ingere tout ce qui passe dans les meilleurs clubs de son pays : bien sur les classiques venus de Chicago ou New York mais aussi les productions allemandes qui imposent leur sophistication avec des labels qui ont litteralement remis au gout du jour la house music telle qu'on l'ecoute encore aujourd'hui.
Ce son, cette vibration house music 'classique' constitue le pouls de ce premier maxi d'Andy Bach sur le label francais avec un track d'ouverture, I Love House, tranquillement ravageur avec sa basse funk imparable et son gimmick chante en mode Barry White, par David Edward.
Dans la continuite, Day & Night va puiser dans l'heritage de la house filtree pour un track entetant base sur une boucle qu'on peine a identifier mais qu'on a peut-etre entendu cent fois : le tour de force du producteur est d'en proposer quelque chose de nouveau et de toujours frais.
Et puis pour les fans de house un peu plus vicieuse, il y a le superbe Feel Good, qui oscille entre down et up pour une ritournelle house en apesanteur.
Pour cet artiste recemment repere chez Piston Records, ce premier EP chez Black Jack est un 'sans-faute' !