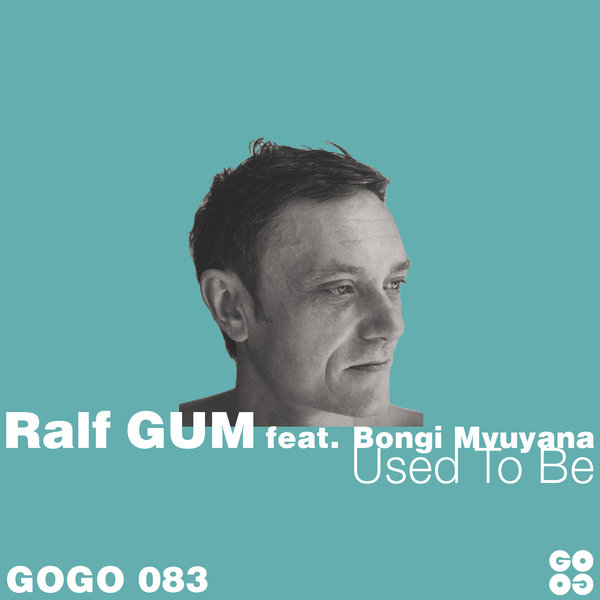 Used To Be
Ralf GUM feat. Bongi Mvuyana
GOGO Music
GOGO 083 | 2019-09-06
Ralf GUM's fourth studio album titled "Progressions" is jam packed with amazing songs and we are excited to present "Used To Be" which features Bongi Mvuyana as single release now, coming with a great remix package including Opolopo, Sir LSG and Davide Fiorese works.

Ralf GUM's consistency made him one of the world's leading House Music artists and the release of his latest studio album "Progressions" is proof to an ever expanding vision he brings to the genre. The album features an array of outstanding vocalists and was complimented by media, DJs and radio worldwide alike. After an extensive album launch tour with more than 40 gigs on different continents, Ralf currently works on the first ever live performance of "Progressions" and more classic titles of his catalogue to be presented in September 2019.

Bongi Mvuyana is a Pietermaritzburg-born Alternative Soul singer/songwriter. Her debut single, "I Wonder" introduced her fresh sound to the South African and African music scene in 2014, and went on to chart on Metro FM's Top 30 Countdown as well as on four Nigerian radio stations. The release of "I Wonder" was followed by an emotive ballad, "Gold" which specifically caught Ralf's attention and made him reach out for a joint collaboration. With her strong sense of musicianship and song-writing Bongi Mvuyana penned and sings "Used To Be" an ode to finding one's voice and being liberated from every hindrance that deters the expression of one's true self.

Opolopo is Yoruban for "plenty", a word that best exemplifies the diversity of this production wizard's musical voyage. Whether it is house, boogie, broken beat, funk or soul, his compositions and productions are always uncompromising with a steady gaze on the horizon and a quick glance in the rear-view mirror. His quality output of course is no secret and makes Opolopo DJ globally and work as a producer for the best labels in the industry. His remix is an astute musical journey with interesting harmonic changes and plenty of groove.

Sir LSG contributes to the remix package which his first musical output since 2017 when his widely celebrated album "Moving Circles" was released. Since then his DJ career took off further and he graced countless venues with his soulful style. His remix comes up with his trademark afro-influenced beat and intertwined sounds while the driving bass is aimed straight on the dancefloor.

Davide Fiorese is an Italian force majeure as a partner in Union Records with Pepe Citarella and as a resident DJ at the famous Urban Klub. He plays at most European soulful house festivals and released his productions on labels like Defected, Purple Music and Nervous. Davide now reworked "Used to Be" giving it a straight uplifting vibe.

GOGO Music proudly presents "Used To Be", which has been an instant favourit of many industry peers such as Booker T, Vinny Da Vincy, Souldynamic, Christos and Rainer Trueby.


Tracklist:

1 - Ralf GUM Radio Edit 3:58 - ISRC: DEY161908301
2 - Ralf GUM Main Mix 6:22 - ISRC: DEY161908302
3 - Opolopo Remix 7:11 - ISRC: DEY161908303
4 - Opolopo Instrumental 7:11 - ISRC: DEY161908304
5 - Sir LSG Remix 7:27 - ISRC: DEY161908305
6 - Davide Fiorese Remix 5:53 - ISRC: DEY161908306


Written by Bongi Mvuyana, Michael Ehnes, Ralf Benkert.
Produced by Ralf GUM and Michael "Nivalito" Ehnes.
Lead vocals and Background vocals: Bongi Mvuyana.

1, 2: Drum programming, Percussion programming, Shaker, Skyndeep, Woodblocks, Fender Rhodes, SH 101: Ralf GUM. Synthesizer, Organ: Michael "Nivalito" Ehnes. Additional Congas: Bongani The Sessionist. Guitar: Philipp van Endert. Trumpet: Kafele Bandele. Violin: Evert van Niekerk. Horn arrangement by Michael "Nivalito" Ehnes. Mixed by Ralf GUM at GOGO Music Studios.

3, 4: All instruments and additional production by Opolopo.

5: Remix produced and arranged by Sir LSG for Sir LSG Music. Piano, Lead Synth and Rhodes by Refentse Victory. Congas by Gontse Makhene. Drum programming and all other instruments by Sir LSG. Mixed by Ralf GUM at GOGO Music Studios.

6: Remix produced by Davide Fiorese All instruments by Ziggy Funk. Mixing and mastering by Peppe Citarella.

Mastered by Masterlab.de.
Published by Copyright Control, GU Music Publishing.
P&C GOGO Music 2019.