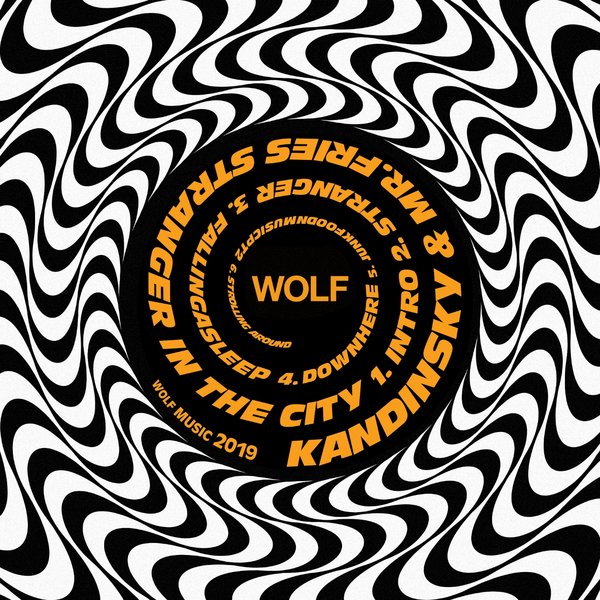 3616400231790 | 2019-08-09
Powering their way through 2019 with no sign of letting up, WOLF Music unleash their next house gem, 'Strangerinthecity', from German pairing Kandinsky & Mr. Fries. Six slices of soulful deepness, that range from blissfully Balearic and chugging groovers, to hazy jazz-infused sweetness, crunchy beats and sweeping interludes.

Kicking off the release a cinematic intro, laced with movie samples and thundering pianos, gives a grand opening for 'Stranger' to slide in with its bongo delights, dusty trumpet melodies, psych guitar licks and fluttering Rhodes. Couple that with the modulated vocal snips and it's a wave of warmness destined to win over any dancefloor. 'Fallingasleep' is a chuggy bass-arp-fuelled interlude with rippling hats, echoing rides and washes of the sea, to lead you serenely into the second half of the record.

'Downhere' and 'Strollingaround' sandwich either side of 'Junkfoodnmusicpt2', like the juicy pleasures its namesake depicts, encasing it lovingly in two dreamy house numbers. The former is a trumpet laden, smokey cocktail of grooves and the latter a more disco-tinged offering, led by a dynamic bass / guitar combo alongside delicate brass and string tones. The tender filling to this deep-fried delight? 'Junkfoodnmusicpt2' - a beatsy trip of glistening, lo-fi, instrumental hip hop that will leave you salivating for more.