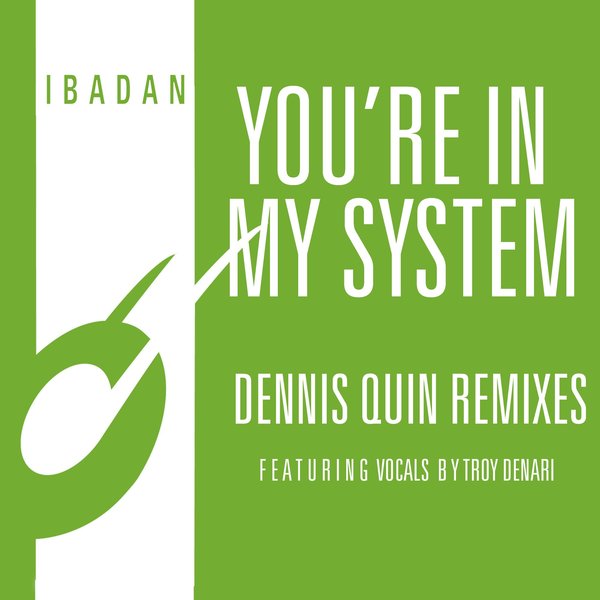 You're In My System (Dennis Quin Remixes) Feat. Vocals By Troy Denari
Ibadan Records
IRC143 | 2019-08-16
New release on Ibadan Records: "You're In My System" by Kerri Chandler & Jerome Sydenham ft. Troy Denari remixed by Dennis Quin Amsterdam-based DJ and producer Dennis Quin and original vocalist Troy Denari breathe new life into Ibadan's classic house track.

Ibadan announces the release of a new remix by Dennis Quin of Kerri Chandler & Jerome Sydenham ft. Troy Denari - You're In My System on August 2, 2019.

Quin, a self-professed house addict and die-hard Kerri Chandler fan since the early nineties, had been searching for a new vocalist to work with. He turned to Simon Birkumshaw, label manager and A&R of Chandler's Madhouse Records, who recommended Troy Denari, the new vocalist of the classic Ibadan track "You're In My System". When Denari revealed that had just resung the vocals, Quin was inspired to remix the track.

Quin's aim with this remix was to update the track for his sets and give it contemporary production values in line with his current energetic sets. It's always tricky to put your hands on a huge record like this, he says. It's a legendary track that everyone knows, so I was extremely careful in terms of mixing, timing, and all the rest.The result is a modern version of the classic that is very true to the original. At the same time, Quin makes his mark by bringing his own drum and percussion into the mix.

The remix versions cover all the bases, including atmospheric dub, club and instrumental mixes, plus a special three-minute edit for Spotify.

Working together for the first time, the members of the musical team were excited to exchange their ideas. Troy, Kerri, Jerome and I have gained so much out this intense collaboration. It has developed into a deep friendship that is all about house music, good vibes and pride in our achievements. Each of us is fulfilled by our individual roles in this project. I'm really proud to be part of this family.

Christine Pedersen, managing director of Ibadan Records, is excited about Quin's first release on the label. It came highly recommended from Kerri and we have been following Dennis for some years. And it's always a pleasure to welcome new and talented collaborators into the fold. And I love the new vocal. Troy's singing brings a fresh spin to the track.