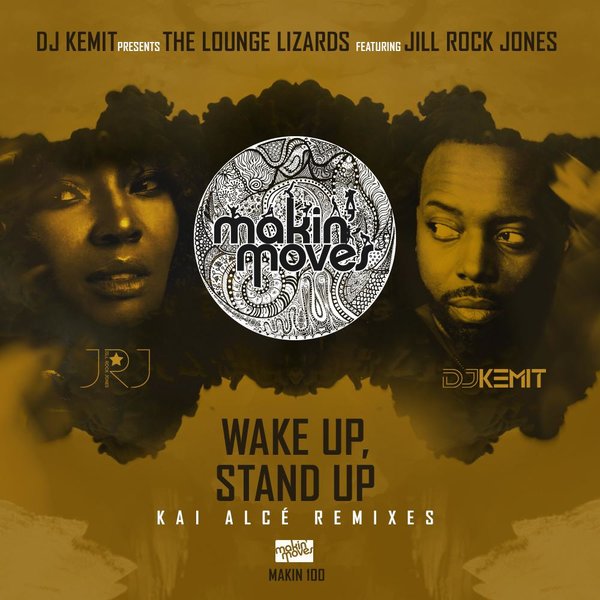 What a year it's been for Makin' Moves records so far. Thanking everyone in our music scene for supporting us over the last 7 years with the releases and our events across the globe. Time has passed so quickly and now we are here and humbly proud to present our 100th release to you!
This song was presented to us by our good friend and talented producer DJ Kemit (one half of Kemeticjust) from Atlanta back in 2017 and we immediately love the song for it's structured groove and powerful and meaningful vocals beautifully performed by Jill Rock Jones. Proving to be a big hit and having people rocking on our dance floors.

Now here in 2019, the message remains the same and is still very relevant, WAKE UP & STAND UP is the title of this song and we have added a new remix done by none other than Kai Alce from NDATL Muzik who has done a magnificent job on recreating a lush, deeply melodic, yet very soulful vibe on this stellar and heart-touching vocal. We could't have asked for more!! The response so far has been amazing and ourselves and Kai have been rocking this mix over the last few months with much appeal to quite a few DJ's and music lovers. Now finally available on digital format.

There will be a special 100th release Makin' Moves/NDATL limited edition vinyl which will feature an unreleased dub mix along with past productions on MM collaborating with Kai Alce (includes 1. WTN ft Lifford 'Rise Up'2. Emdee Brown 'Again' 3. Malik Alston ft Laronn Dolley 'Promise Me Love') Due for release AUG/SEP so be on the look out!!


Original Mix by DJ Kemit for Kemit Muzik, LLC at Kemit Audio Labs, Atlanta Ga
Remix performed by Kai Alce for NDATL Muzik
Remix mastered by Toni Economides

Publishing info : Deanna Lewis (for Jill Rock Jones) Vertise Child ASCAP
Luke Austin: Ausound Music/BMI
Kevin Hyman (for DJ Kemit): Kemit Muzik/BMI

Executive Producers :Matt Langrish-Smith & Jamesey for Makin' Moves Records.