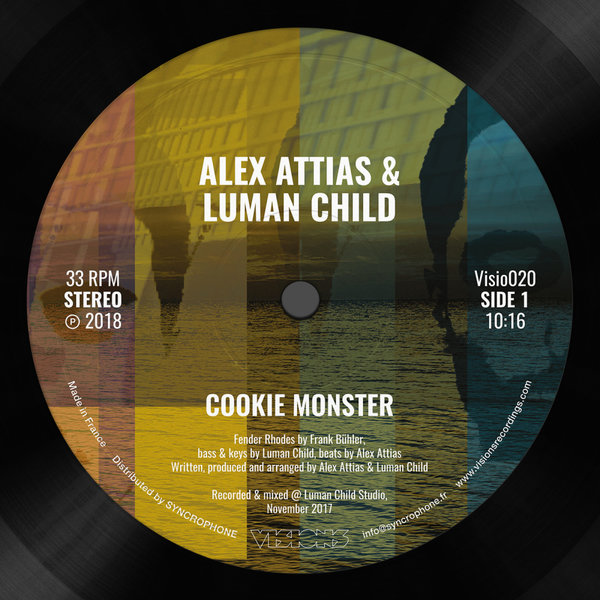 This single is very special for Visions Recordings, as the result of a fresh collaboration between Alex Attias and Luman Child, two Swiss artists reunited for the first time. Alex proposed Luman Child a collaboration after listening to his music. Then they met and talked about music, their visions, their influences, their method of work and decided, straight away, to work together without knowing each other well and pushing them outside their comfort zone. They are both very happy with the result.

Alex Attias has been in the music for many years producing, remixing many great artists and djing all over the world. Recently, Alex released a compilation on BBE Records (Alex Attias presents LillyGood Party!). A couple of remixes are on the way and he's also preparing other singles for his label Visions. Luman Child released Time To Grow in 2017: his first solo album (a killer!) with the German label Sed Soul Records, still available on a neo-soul hip-hop tip. He reached number 11 in the UK soul charts. As a musician and bass player, Luman Child had a few collaborations with Ferry Ultra, Gogo Music, and Marc Mac of 4Hero fame.
The project they present here is very organic soulful and musical. This single holds two killer tunes for the listeners and the dancers. The A-side is a 125 bpm disco jazz-funk killer jam with a live bassline, Fender Rhodes and vintage keyboards sound driven by a very funky drum beat aimed to the dancefloor and good time party people keeping a smile on their face. It's simply groovy and goes on and on for 10 minutes of pure disco pleasure. The B-side is a funky number boogie jazz funk inspired by Mr. Ayers vibes and sounds. The rhythm is groovy at 120 bpm and the Moog bassline is round and fat. With its both tracks stuffed with Fender Rhodes and dope keyboards sounds, this single will definitely find a place in DJ boxes for those who play and love soulful music with an open mind. Groovy, warm and soulful at its best.