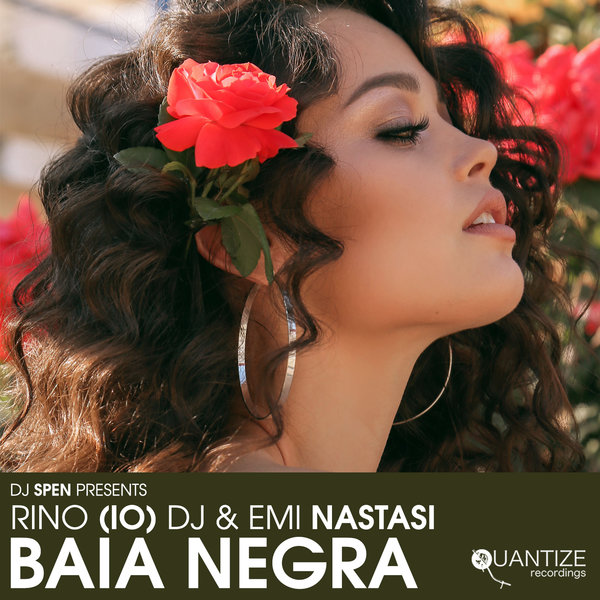 Rino (IO) DJ & Emi Nastasi "Baia Negra"

Produced by Rino(IO)DJ & Emi Nastasi
Written by Gennaro Iodice
Publishing by Mega Tune Music (MCPS)
Sean Spencer, Thommy Davis and Kelly Spencer Executive Producers

Quantize Recordings Italy's Rino (IO) DJ & Emi Nastasi beautifully written and performed tune "Baia Negra". Featuring remixes from Doug Gomez, "Baia Negra" is perfectly tailored to bring sunshine to any dancefloor. The Original Mix, which appeared on our Summer Vibes Down Under the Bottom Compilation, features a Latin flavored bassline with lovely, harmonious vocals by Emi Nastasi. It's an inviting piece of music that is destined to be heard on beaches everywhere. Doug Gomez Remix offers an Afro House alternative to the package giving the song a fresh rhythmic perspective that will set dancefloors ablaze. His Tambores Mix and Sunrise Dub are the perfect tools for those who like to groove in the mix. "Baia Negra" is a gem brings together classic and new sounds in one extraordinary package that everyone can enjoy.

01. "Baia Negra" (Doug Gomez Remix)
Remix Produced by Doug Gomez
Bass by Shawn V. Lucas

02. "Baia Negra" (Original Mix)

03. "Baia Negra" (Doug Gomez Sunrise Dub)
Remix Produced by Doug Gomez
Bass by Shawn V. Lucas

04. "Baia Negra" (Doug Gomez Tambores Mix)
Remix Produced by Doug Gomez
Bass by Shawn V. Lucas


Adam Sterling "Beautiful, big support"
C J Mackintosh "Growing on me :)"
Candice McKenzie "I like the Sunrise Dub, thank you Quantize!"
claude monnet "nice groove"
craig Bartlett "ooooof lovely vibes"
Dj Able "nice work"
DJ Biskit "Nice one!"
dj groove "Fire Blazze Chune,A Floor keeper!"
DJ Kik "all version are Excellent, full support ! DJ_KIK"
Dj Minx "Soulful/afro...goes well with both type of sets. Thanks!"
DjPope "nice job ,y man Doug Gomez"
Donna Edwards "Beats for the dancers!"
Ed Soul "Sounds HOT!!"
EDDIE Boom "dope tune jus in time for summer"
Geoffrey C "Good party stuff"
Hector Romero "Fantastic!! Summer vibes are here!!"
Hippie Torrales "nice voice and remix"
Jerome Hicks "GOOD ONE..."
jihad Muhammad "Nice!!!"
Just Mo "Very hot tune."
Kail Alce "Dope spring vibes here!"
KW Griff "Nice"
Mannix "What a Dub from Doug"
Mark Deadly Smedley "Will drop this in the mix on Mi-Afternoons"
Martin Lodge "Yep full support on this one"
Master Kev "FIRE! Great song and killer remix from Doug Gomez"
Mind Street "Rock it"
Naeem Johnson "HOT TRACK HEAVY ROTATION TAMBONES MIX !!"
Nico De Ceglia "Nice one"
Ollie Blackmore "There is just no stopping the quality of music you guys are putting out!"
Patrick Scientific "The original is very solid but I like the Doug Gomez remix. It brings a different flair to the mix. I will get this on soon at WEAA. Maybe tonight"
Ronnie Herel "Yep Yep!"
Soulfuledge "Yep... great mix from Doug on here - top!"
tedd Patterson "All Mixes. Killer record. Love it. :)"
Thomas Lytel "Int'l flava w/ nice beat"