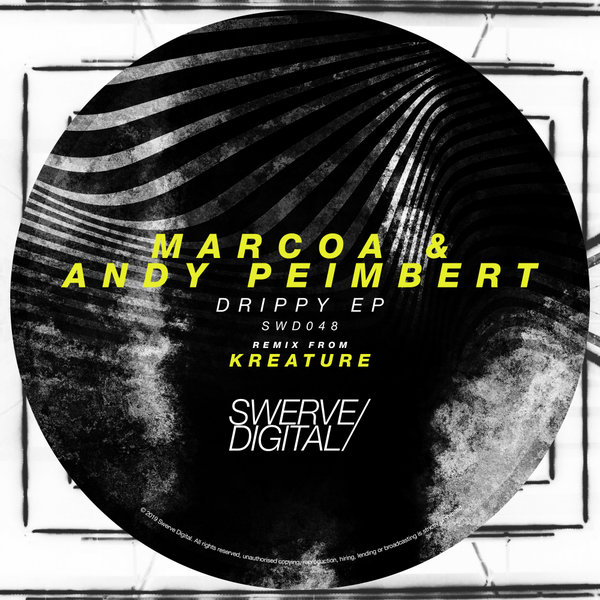 The next release on Swerve Digital comes from the profound pairing of Marcoa. & Andy Peimbert. Their 'Drippy' EP features two fresh originals and a remix from the ever-popular Kreature. The duo has been prolific in their efforts in recent years, building a rep for impressive production; their latest release just adds more fuel to that flame.

The title track, 'Drippy', kicks things off with an instantly gripping level of energy. Skippy rhythm and punchy drums sit aloft a groovy bassline, drilled through a powerful low-end sub. Add some eerie sampling, lucid vocal hooking and cinematic spaces in the transitional sections and the track is really coming to life. Cutting back through those spooky, climatic moments are potent injections of the tracks main body; forcing you deep back into the groove.

Next up, the wittily titled 'The D Is Silent'. A rolling, deep track with several quirky and interesting factors. It's laced throughout with hints of funk, soul, and kooky sampling. A creative track; dreamy and cartoon-like in places with a dangerously unforgiving underbelly, made out of robust drum structures and perpetual movement.

Bringing the release to the close; Kreature's undeniably distinctive remix of 'Drippy'. Loaded with pace and swing, along with plenty of his signature outlandishness. At the crux, a wobbly yet incredibly thick, driving bass melody accompanied by watertight kicks and layered tops. The rest of the package comprises raspy synths, peculiar FX and cleverly constructed vocal presence.

Marcoa. & Andy Peimbert's 'Drippy' EP (inc. Kreature Remix) is proudly presented by Swerve Digital.