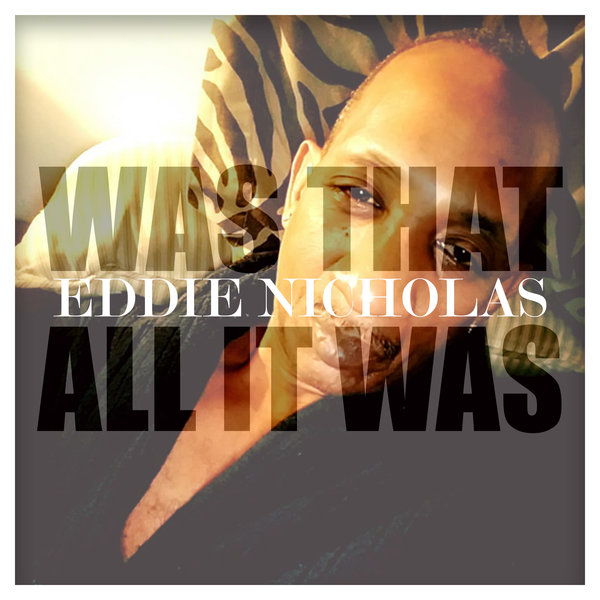 Mixtape Sessions and Dekmusique Imprint are proud to present recording artist extraordinaire Eddie Nicholas' rendition of "Was That All it Was" which includes the brand new DjPope Remixes. About ten years ago, Eddie Nicholas and Deidre Covington were sitting on the Hoboken Pier talking about life and music. During the conversation, Jean Carne's name came up and Eddie made mention that one day he was going to record Carne's classic tune... step in Jalal Johnson and Rasmir Mantree! Their music and production collaboration birthed the album version which appears on Eddie's debut "Do You Wanna Dance?" LP. Promotional copies were sent out at that time and the song fell upon the ears of multi-talented DJ and producer, DjPope. Baltimore's own DjPope masterfully took the foundation of Eddie's rendition and created a master piece! Take a listen to DjPope's Remixes as well as Rasmir Mantree's album version and dance the night away! This song pays homage to and offers up the male perspective to Jean Carne's incredible song, originally released in 1979. In 2019, it sounds as fresh and as relevant as ever!

Written by Jerry Butler, Linda Iris Conlon and John L. Usry, Jr.
Remix produced by DjPope for Pope Pump Muzick.
Additional String and Horn arrangements by DjPope.
All drum programming by DjPope and Trap Set by DjPope.
Congas by Kevin Pinder.
Recorded at The Funk Hut, Baltimore, MD.
For DjPope inquiries, please contact Kevin Goode via email at: Pojimanagement1@gmail.com

All vocals performed by Eddie Nicholas.

Rasmir Mantree's Album Version produced by Rasmir Mantree.
All music performed by Jalal Johnson.

Published by Jerry Butler (ASCAP), Linda Iris (SOCAN), John Usry (SOCAN) and Warner-Tamerlane Publishing Corp. (BMI).

Mastered by Adam Cruz at EbbnFlow Studios in Bloomfield, NJ.

Cover photography by Eddie Nicholas.
Cover art design by Adam Cruz.
Executive Produced by Eddie Nicholas and Adam Cruz.

Special thanks to DJ Pope for a stellar job well done. Major love and respect to you and Rasmir!

(c)2019 Mixtape Sessions Music, LLC / Dekmusique Imprint. All Rights Reserved.
Distributed by The Cruz Music Group, a Division of Mixtape Sessions Music, LLC.