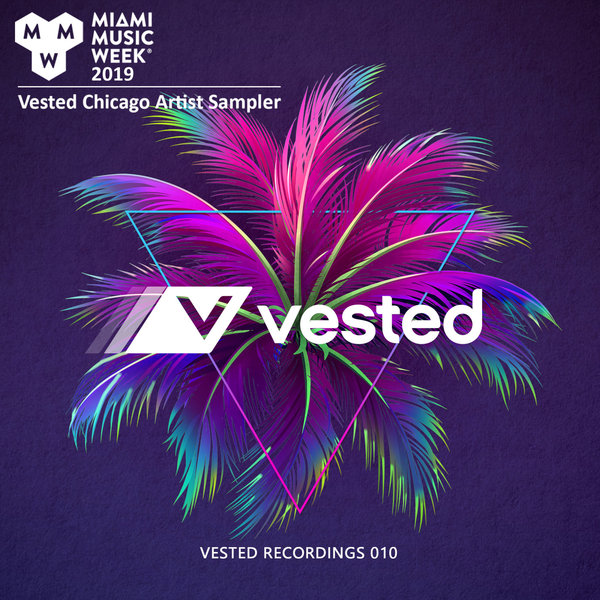 VESTED: adjective - held completely, permanently, and inalienably.
Keeping true and parallel to the musical vision of Vested as a Chicago-based music and event brand, Vested Recordings is a home for a range of forward-thinking electronic music sounds, ranging from deep to tech-house to progressive to techno to house, with the common thread being the timeless low-end prime-mover groove that proper progressive house has always championed.

VEST010 // MMW 2019 – Vested Chicago Artist Sampler
This tenth label release offers a compelling spectrum of the label's musical spectrum in showcasing 5 superb tracks from hardworking Chicago-based artists ranging from some deep-, tech-, and progressive-house goodness for the fine people at Miami Music Week 2019 and beyond -- all crafted by Chicago-based artists, with love, from the Windy City.

With over 13 years of DJ experience in rocking Chicago dancefloors and producing thought-provoking dance music under various artist aliases, the artist behind a relatively-new Rez Dorsia alias continues to impress with delectable production work. His original work on this release, "Guise of Reality", is a lovely fusion of deep, tech, and progressive-influenced sounds, and takes the listener and dancer on a deep, driving, slightly-dark yet melody-soaked emotive journey. This truly stunning work here, and a genuine pleasure to have on this imprint.

Heliosheath is a live PA and techno performance moniker for Chicago-based artist, Ken Sheldon. Ken is an electronic music lover through and through, a big audio gear enthusiast, involved with multiple event producers in Chicago such as Obscure, Format, and Sleepwalker, and the original composer of this release's synth hook-driven track, "Awash In Beauty".
RJ Pickens is a longtime Chicago resident artist with 16+ years of noteworthy gigs and residencies under his belt, is a hardworking producer with some thought-provoking releases to his name, is the captain behind all things Vested, and will humbly leave his resume at the door here. In addition, he's contributed the progressive-driven rework of this fine tune.

Blu9 is a Chicago-born-and-raised DJ and producer, rising up the ranks of the underground house and techno scene. Art and music have always been a priority and focus, learning violin at 7, followed by composition and interest in piano and percussion. This is echoed in her hauntingly beautiful productions which often fuse electric violin with percussion instruments and string elements, and can be found on many prominent labels and on the decks at prominent Chicago venues alike Her contribution to this release, "Free Your Own Mind", is a stomping techno stormer with a vocal hook that will stay in your mind for time to come.

Windy City artist Nevalu may be a relative newcomer to the Chicago music scene with a bit less time in the mix of things than some of his colleagues, but his time has been very well-spent being dedicated to his craft. With regular releases on fellow Chicago-based label: Tru Musica, his own label: Impakt, and the host and producer of "Sound Function"– a brand new podcast series featuring tasty house music selections and featured interviews with fellow artists, he's begun to carve out his own road. His release "Roadblocked" on this release further paves the way, as he delivers a top quality acid-infused techno gem that manages to sound gritty and dirty, yet also lighthearted, mischievous and happy all at once.

Lebanese-born, Detroit-raised, and now Chicago-based, Dabura has truly embraced the art of the hustle. Growing up in a musically-nurturing household, he eagerly got involved and quickly grew into Detroit's music scene, which has given way to a move to Chicago. It's here in the Windy City that he's put down his most notable roots to date, where he's busy playing on proper shows, festivals, and running his own nightlife brand – Rituals. "Comet", his contribution to this release, features intricate percussion arrangements, deep grooves, and a captivating spoken vocal element with an inspiring and uplifting message.

Chicago is presently in a great creative place, and this sampler serves as only a snapshot of what this lovely city and birthplace of house music has to offer.