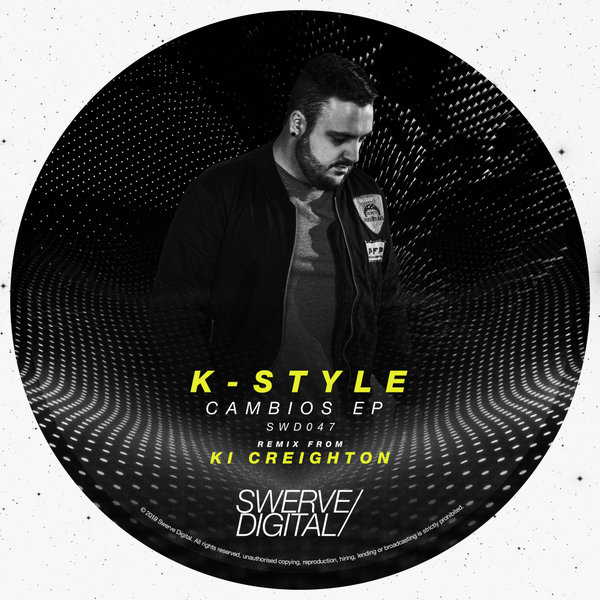 Next up on Swerve Digital is a release from Spanish production talent, K-Style. His subtly Latino-influenced EP is aptly named 'Cambios' (Spanish for 'Changes') and comes with three completely different originals plus a remix from the ever-popular Under No Illusion label boss, Ki Creighton. K-Style has recently released on the likes of 1605, Natura Viva, La Pera Records and many other internationally acclaimed labels, so we are delighted to add Swerve Digital to that growing list.

Opening the release, the title track 'Cambios' takes on the form of a modern tech-house number. Sharpened drums and percussive elements sit aloft a groovy sub bass melody and are joined by a fetching hip-hop vocal hook. The real magic happens during the transitional stages of the track, with K-Style starting on a blank canvas and building his way up to a huge climax.

Next in line comes 'Susurros', another groovy affair with shuffled rhythm, driven by an engaging low-end melody. A track with a large emphasis on percussion, with each element being masterfully separated in the mix, giving it a lot of space and weight which is complemented by subtle synths, effects and a hypnotic female vocal.

Following on nicely is a remix of its predecessor from Ki Creighton. His distinguishable sonic signature is present from the outset, adding hints of authentic house flavour via the aid of some tasteful piano work. A steady roller, with largely uninterrupted levels of energy from start to finish.

Closing the door on the release is 'Recuerdos', a robust and uptempo rolling tech weapon. Taking clearly distinguishable influence from K-Style's love of great techno music and teaming it up with a big splash of Latino flair. Think trumpets, seductive piano lines and elegant vocals combined with a heavily stacked beat and lots of fluctuation in energy. A real standout track for the right occasion, truly unique in its entirety!

K-Style's 'Cambios' EP (inc. Ki Creighton remix) is proudly presented by Swerve Digital.