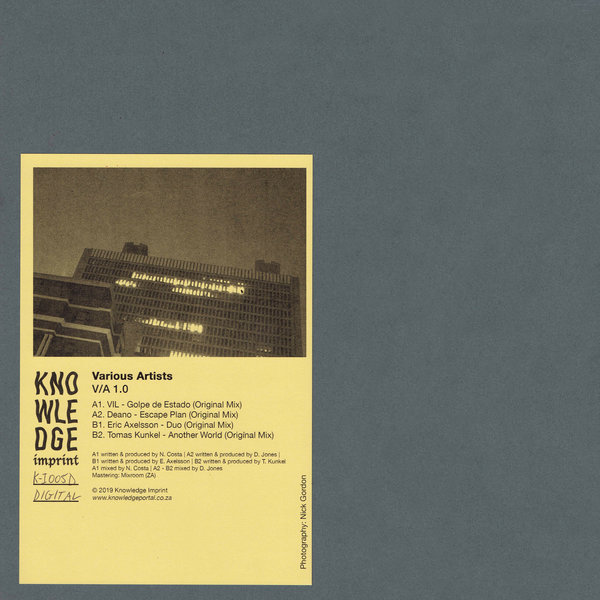 For this fifth outing on the label, Deano invites some established and upcoming producers to contribute tracks to Knowledge Imprint's first Various Artists release. Spanning four corners of the globe, the release aims to represent some of the scene's most exciting young talent.

The A-side contains 'Golpe de Estado', a track by top Portuguese producer VIL. With a tight and powerful groove, the track loops through a dubby stab pattern layered with jacking percussive rhythms. Label-head Deano's track 'Escape Plan' follows suit with a rolling kick and bass pattern that lies under a loopy synth sequence that combines elements of groove and hypnotism.

The flip-side contains two tracks that play with structure and break the loopy character of the A-side. Rising Swedish artist Eric Axelsson contributes 'Duo', a track that combines moments of broken-beat with straight-up jacking analogue drum patterns. This track is a full percussive workout with hints of an FM-style synth. Closing out the package is 'Another World' by Argentinian producer Tomas Kunkel. With a no-mercy approach, this track hits hard from the onset. Known for his hardware live sets, this track perfectly embodied his relentless but groove-laden style. Expect distorted drums, unconventional arrangement and tweaky synth patterns.