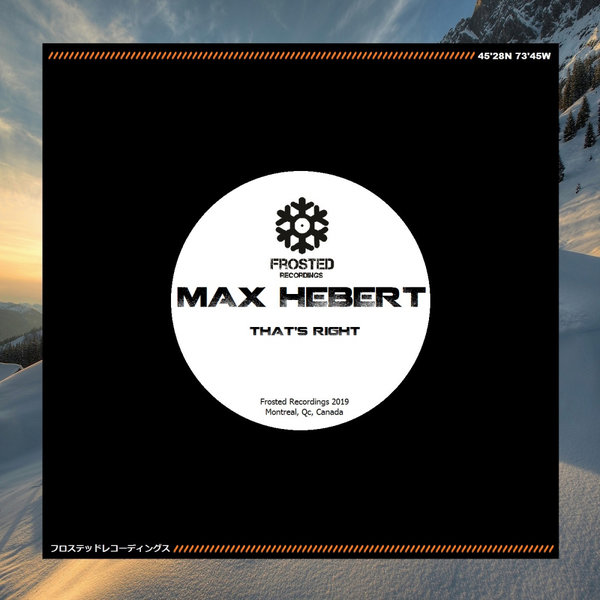 Montreal DJ Max Hebert started his musical journey as a young vinyl junkie at the age of 14, constantly squatting record shops from Montreal to New York City for rare vinyl collectibles and diverse styles of music such as House, Disco, Techno, Funk, Hip Hop and Breakbeats.

Attracting worldwide attention by hitting the charts since 2008, Max Hebert has been piling up musical projects ever since, collaborating with well-established Underground House labels such as Natural Rhthm Music, Pocket Jacks Traxx, Cabbie Hat, Greenhouse, Jack Locker, Kinjo, Footwear, Tastie Music and SoulBrain. In September 2013 Max founded his own Label, Frosted Recordings, releasing cutting edge House Music cuts and other various styles of music.

His distinctive fast-paced mixing along with his capability of blending-in the West Coast Deep House sound into Chicago's Funk and Jazzy influences, combined with his 20 years of experience behind the decks, makes this turntablist a definite sure shot when it comes down to dance floor destruction. He has travelled and spread the love to major cities on the Canadian east coast since the early 90s, and his magic has also brought him to countries such as Britain, Scotland and Japan.

Max has performed alongside major names in the industry, such as Inland Knights, Derrick Carter, Mark Farina, Detroit Swindle, Kevin Saunderson, DJ Sneak, Martin Solveig, Jason Hodges, DJ Heather, Sonny Fodera, Sebastien Leger, DJ Dan, Natural Rhythm, Hatiras, Ant La Rock, Demuir, David Morales, Hector Romero, James Curd, Miss Honey Dijon, Chris Liebing, Way Out West, Guy Mantzur, Victor Calderone, Joeski, Onionz, The Crystal Method, John Howard, Jay Tripwire, Raoul Belmans and many more...