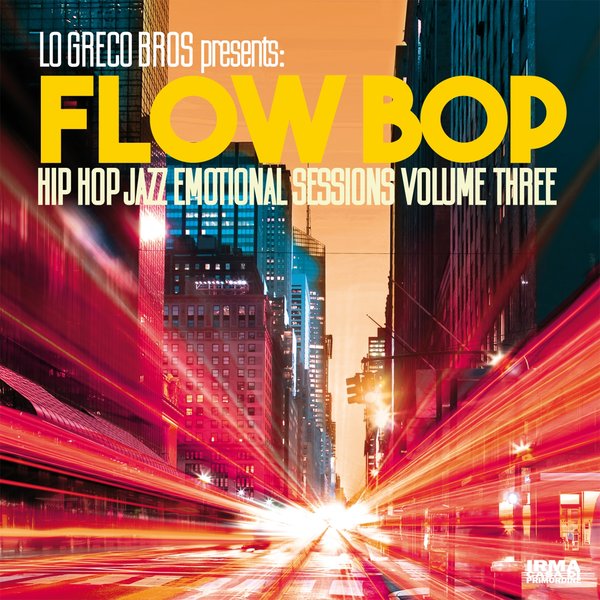 Hip Hop Jazz Emotional Sessions, Vol. 3
Irma
IRM 1803 | 2019-03-08
Flow Bop are:
Vocals: Julia St Louis. Licia Russo, Maryan Sidney, Jagga Guy
Saxes : Germano Zenga, Niccolo Francesco Ricci,
Trumpets : Mauro Brunini, Francesco Manzoni
Drums & Percussions : Gianni Lo Greco
Piano, Keyboards, Bass, Guitars, Flute, Sampling & Programming: Enzo Lo Greco
All tracks composed by Vincenzo Lo Greco,
Producted and performed by Lo Greco Bros for Flow Bop Productions

The deep and particular search for sounds and atmospheres on the Groove Downbeat that meets with Hip Hop and Jazz continues, in this case with contaminations with Neosoul and R'n'b.
These new volumes are added to the previous collections of compositions of the albums Flow Bop vol.1 and vol.2.
Typical is the sound of the 'Beat Black Hip Hop', which today is included in the so-called Jazz Hop and Chillhop genres, where Enzo and Gianni Lo Greco, together with a group of expert musicians with whom they have collaborated for years, enclose these new experiences and new objectives in the production of high quality and artistic music without losing sight of the tastes of the public attentive to the novelties of the plan market.
The FLOW BOP Project was born a long way off: it was the early 90's when, from a visionary intuition, the Lo Greco Bros organized a meeting between a jazz quartet and a Rap group called Radical Staff that includes with among other DJ Skizo.
This experimentation was a fusion between jazz and the world of HipHop. The common requirement was to explore new languages in black music. This idea is still the basis of the FLOW BOP project, the fusion of the spirit of improvisation replacing the rhythmic swing with a pulsating funky soul R'n 'B Hip Hop. This magical formula has achieved a brilliant success in the world, starting a new life that has inspired many artists creating a new energy without end!