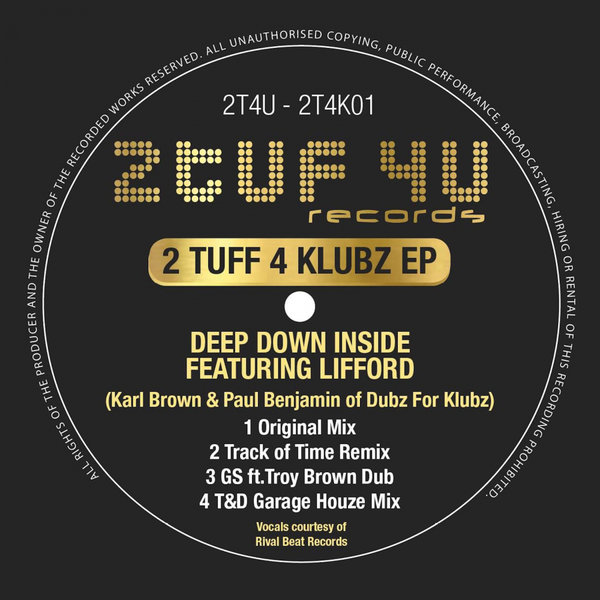 2TUF4U continues its momentum as one of the leading UK Garage labels of its kind. This new release features a collaboration between Karl 'Tuff Enuff' Brown of Tuff Jam instrumental in the explosion of the Underground Garage sound in the 90's and Paul Benjamin, the founder of the legendary label 'Dubs For Klubs' who has also been instrumental in his contribution to the very foundations of UK Garage explosion being responsible for such classic's as 'What Can I do', under the alias Twyce As Nice with Miles Fontaine, 'Crazy', under Sly Paul with Jeremy Sylvester, 'I Need A Rhythm', under KP with Keet.

This collaboration between two giants of the UKG scene has resulted in the creation of the 2 TUFF 4 KLUBZ EP. 'Deep Down Inside' and this would have not been possible without the amazing vocals from Mr Britain's Got Talent himself The Lifford. This package comes with 3 Hot Mixes including the Garage Houze Mix by T & D which caters for todays genre's, please enjoy...

2 TUFF 4 KLUBZ EP feat. LIFFORD 'Deep Down Inside'
1. Deep Down Inside (Original Mix) - 132bpm
2. Track Of Time Remix- 132bpm
3. GS ft. Troy Brown Dub - 130bpm
4. T & D Garage Houze Mix - 132bpm

Vocal sample from 'Beat Rivals feat. Lifford - If I Could' courtesy of Rival Beat Records.