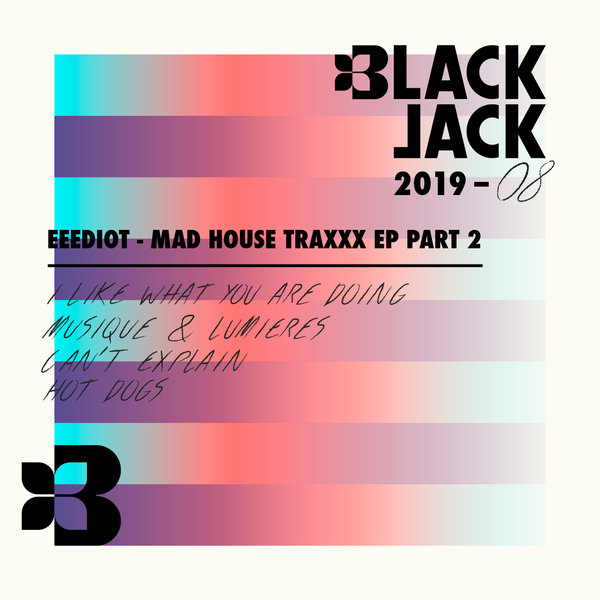 Black Jack 2019-08
EEEDIOT Mad House Traxx #2

Praised as a revelation of the year by the electronic music media in recent months, the artist was part of the 2018 resurrection of Black Jack, emblematic label of the French Touch era .
In 2018, Eeediot gave us Mad House a full three-song ep matching the promises of his inaugural tracks like Without Your Love.
With infused science from a techno veteran and a house music soldier, Eeediot knew from the first opus how to turn heads with tracks like Everybody Up, You And Me or Do not Stop.
With Mad House 2, the illuminated person extends his work as an illusionist to touch the heart, without fear, as we have done since the beginnings in electro, to borrow here and there the sounds and musical parts that made history. It would take a little (but not too much) insight to recognize what these four seductive and addictive tracks borrowed .
Musiques et Lumières is based on a discreet sample of a flagship track from the funk wave which we can easily recognize. Can't Explain is based on the lyrics of a 'silly love song' (wink wink) of a former Fab Four and his band, a timeless hit in the mid-eighties. I Like What You're Doing revolves around the keyboards of a funk classic whose guitar riff should have been looted by the French Touch ... Ah, no it isn't Stardust, it's Chaka Khan!
Hot Dogs meanwhile is happily diverting a small part of the funky chorus of a late 80's pop hit.
Stuffed with references but always accessible, playful, fresh and finally irresistible, the tracks of Eeediot conceal in themselves all these great moments of music we lived at the turn of the 21st century, moments that the French Touch actors do not want to forget.


EEEDIOT Mad House Traxx #2
Plébiscité comme révélation de l'année par les médias électroniques ces derniers mois, l'artiste accompagne depuis 2018 la résurrection de Black Jack, label emblématique de la French Touch.
En 2018, Eeediot nous gratifiait avec Mad House d'un maxi complet de trois titres, à la hauteur des promesses entrevues lors de ses tracks inauguraux comme Whithout Your Love. Avec sa science infuse de techno veteran et house music soldier, Eeediot sait dès le premier opus comment faire tourner les têtes grâce à Everybody Up, You And Me ou Don't Stop.
Avec Mad House 2, l'illuminé prolonge son travail d'illusionniste pour toucher au cœur, sans craindre, comme on le fait depuis les débuts dans l'électro, d'emprunter ici et là des sonorités et des parties musicales qui ont fait leurs preuves.
Il faudra ainsi un peu (mais pas trop) de perspicacité pour reconnaître les emprunts de ces quatre tracks aussi séduisants qu'addictifs.
Musiques et Lumières se base sur un sample discret d'un track phare de la vague funk dont on devinera aisément le nom. Can't Explain repose, lui, sur les lyrics d'une « chanson d'amour idiote » (attention clin d'œil) d'un ancien Fab Four et de son groupe, hit mid-eighties indémodable. I Like What You're Doing tourne autour des claviers d'un classique funk dont le riff de guitares aurait dû être pillé par la French Touch... Ah, non, raté, Stardust, c'est Chaka Khan ! Hot Dogs quant à lui, détourne avec bonheur une petite partie du refrain génial d'un tube pop de la fin des 80's.
Bourré de références mais toujours accessible, ludiques, frais et finalement irrésistibles, les tracks d'Eeediot, musicien joueur et mémorialiste, recèlent en eux tous ces grands moments de musiques vécus à la charnière du XXIème siècle, de tout ce que les acteurs de la French Touch ne veulent surtout pas oublier.