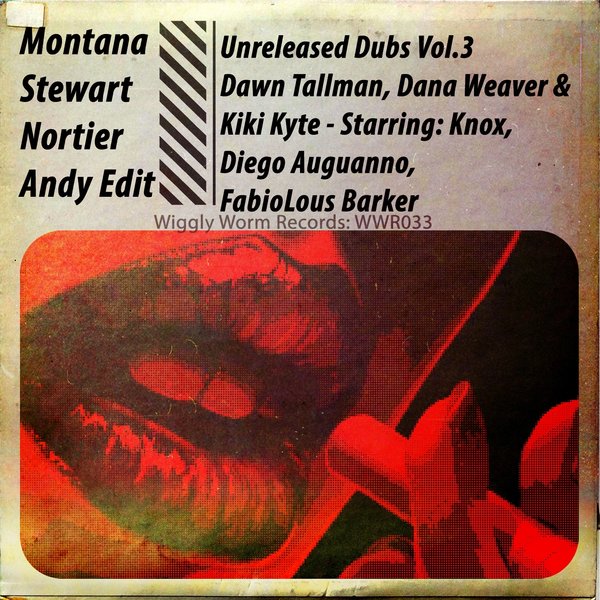 Unreleased Dubs Vol.3
Montana, Stewart, Nortier, Andy Edit, Dawn Tallman, Dana Weaver
Wiggly Worm Records
WWR033 | 2019-02-07
You guys really do like our dubs to warm up your dance floors - our 'Unreleased Dub Project' continues to far outsell any other packages we've put out over the last 13yrs.

This Vol.3 drops four stunning! previously unreleased stories from our soulful warriors Montana, Stewart, Nortier & Andy Edit - taken from their smash hit singles with top singer/songwriters Dawn Tallman, Dana Weaver & Kiki Kyte. This the third of many volumes to come of high quality dance music from our top remixers stripping back those vocal recordings that we've all come to love.

1. Knox
2. Our very own Craig Stewart & Andy Edit.
3. Sicilian born top producer, now living in Switzerland Diego Auguanno
4. Argentinian hit man FabioLous Barker

Original Credits:
Find Strength:
Produced Arranged & Mixed By: Jonny Montana & Craig Stewart
Music Written By: Jonny Montana, Bennett Holland & Craig Stewart
Keys By: Bennett Holland
Saxophone By: Martin Seaman
Lyrics & Vocals Written By: Dawn Tallman & Glenn Thornton
Tallman Music (SESAC) Slaag Compose (SESAC)
Lead & Backgrounds: Dawn Tallman Vocals Recorded By: Glenn Thornton, Slaag Studios Burkington NJ
Mastered By: Benedict@Phuture Audio

It Up To Me:
Original Music Written & Produced By: Andy Edit & Craig Stewart
Lyrics & Vocals Written By: Dana Weaver
Guitar By: Nicholas Elmer: nicholas.elmer@btinternet.com
Mixed & Mastered By: Benedict 'Phuture Audio'

Breathe:
Produced & Arranged By: Jonny Montana, Dale Nortier & Craig Stewart
Vocals By: Kiki Kyte
Lyrics Written By: McKenzie Frye
Keys: Bennett Holland
Mixed & Mastered By: Benedict At Phuture Audio.