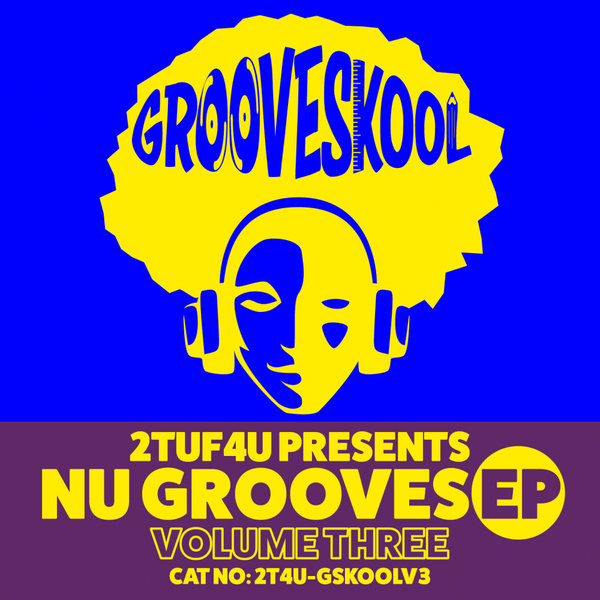 2T4UGSKOOLV3 | 2019-02-08
Huge Thanks for the amazing support we have had on the Nu Grooves 'VOLUME ONE' seeing it reach No.1 in one of the popular DOWNLOADS SALES CHARTS and also to see that 'VOLUME TWO', featuring 14 new tracks for your listening pleasure, also hit No.1 for 6 weeks in this DOWNLOADS ALBUM CHART, so it's our pleasure to release GROOVE SKOOL Nu Grooves EP 'VOLUME THREE', with VOLUME.4 to also follow in 2019. Please continue to show your kind support for this new feature of the Groove Skool Sessions and more forthcoming releases of this kind from 2TUF4U Records.

The GROOVE SKOOL 'NU GROOVES' series is to promote the music of new students who have been given a special opportunity to enrol & learn the art of Music Production from this special private school run by its tutor Karl Brown of Tuff Jam/2TUF4U Records. The productions aim to demonstrate the style, skill and enthusiasm of prospective pupils as they learn how to understand & produce the Garage & House sound from beginning to end.

2TUF4U Records formed in 2002 & is still going strong in 2018 due to the great support from old and new followers of the Underground House & Garage Sound. Thank you to all those still loving and showing their support.

Shouts to all the GROOVE SKOOL Students especially to those featured on NU GROOVES series:

Adapta
Alex De Joncaire (France)
Bobz Ur Uncle (France)
Bumpy Business
Carpenter Man
Craig James
Danny Blaze
Graham Torrance
Krazy K from Beat Rivals
M 4 G (Mad 4 Garage)
Marvin Swift Fingers G & Shi Boy
Ten Levels & Emily Ralston
Tuff Jamz (Karl Brown & Dub Jamz from Germany)
WoodWorX & Co

ALL TRACKS MIXED & MASTERED AT ONE TUFF STUDIO LONDON.
EXECUTIVE PRODUCER GROOVE SKOOL aka KARL BROWN OF 2TUF4U Records/TUFF JAM Productions.