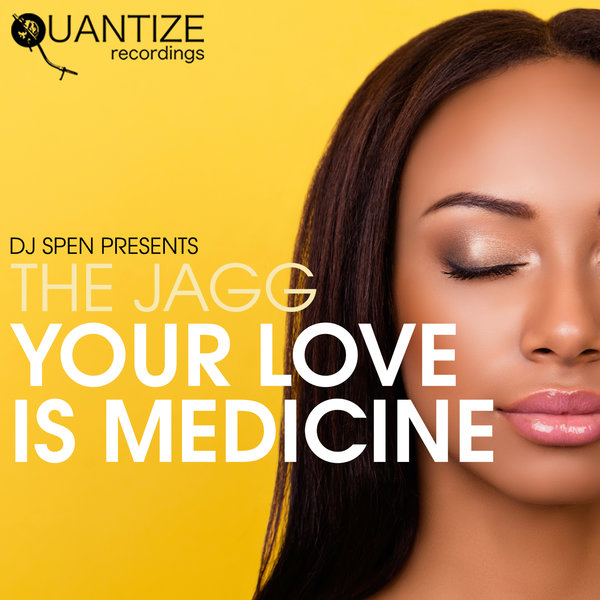 The Jagg "Your Love Is Medicine"

Written, Produced & Arranged by The Jagg
Published by Quantize Music Publishing
Remix Produced by Soulfuledge & DJ Spen
DJ Spen & Thommy Davis Executive Producers

Making his Quantize debut, Italian producer The Jagg drops a disco-tized vocal cut that shimmers & shines in all the right places! With a nod to the classic Moloko sound, "Your Love is Medicine" is guaranteed to bring happy times to the dancefloor & have you singing along from start to finish!

On remix duties, the Quantize duo Soulfuledge & DJ Spen go straight for the jugular with a hefty slice of soulful underground goodness! Infectiously deep & groovy, this tune's got more bounce than a kangaroo on a pogo stick!

Enjoy!!!

1. "Your Love is Medicine" (Original Mix)

2. "Your Love is Medicine" (Soulfuledge & DJ Spen Remix)

3. "Your Love is Medicine" (Soulfuledge & DJ Spen Instrumental)

C J Mackintosh "DJ Spen Remix :)"
Candice McKenzie "Soulfuledge and DJ Spen mix for me! Thanks Quantize!"
Danny Krivit "The Original :)"
Deli G "The Remix on the Project Has Nailed It"
DJ Aaron Paar "The Spen, Soulfuledge is the one!"
Dj Able "great track will support"
dj booker t "cool vibes will support"
DJ Kik "Remix by Spen for me :o)"
DJ Oji "Nice"
DJ Sir Charles Dixon "will support"
DjPope "nice"
EDDIE Boom "catchy tune very nice"
Geoffrey C "Love the energy in the original mix. Love the soulfulness of the remix!"
Gary LeMen "great track. Full support."
Hippie Torrales "Nice job on remixes"
Jerome Hicks "GOOD STUFF"
Just Mo "Got my support."
Kenny Carpenter "Loving the original mix."
Luis Radio "cool"
Mannix "it's the remix!!"
Martin Lodge "Nice bumpy track"
Mind Street "Groovy"
Ollie Blackmore "deep business!"
Patrick Scientific "Real nice groove. The remix adds a different twist on things. I will get this on WEAA."
Peppe Citarella "Thank You !!! Peppe Citarella ;)"
Robert Owens "Cool track and mixes"
Ronnie Herel "Yaaasss!"
Sahib Muhammad "support"
tedd Patterson "This is the shit right here! ;)"