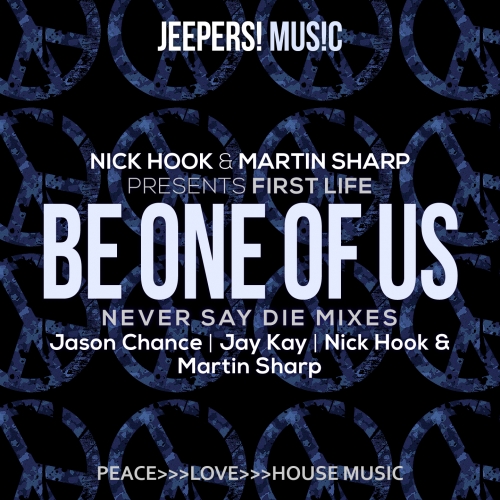 JEEPERS! Music proudly presents brand new mixes of the classic mid-90s progressive house track 'Be One Of Us' by First Life.

Nick Hook and Martin Sharp produced together as First Life in the 90s and 2000s, creating a number of progressive house classics such as 'Be One Of Us', 'Love Bomb' and the two remixes of Dum Dum's 'One Earth Beat' included on John Digweed's Renaissance 2 album.
   
'Be One Of Us' was massive for both Sasha and Digweed when it was first released in 1994, and was a seminal tune when they toured the USA to spread the British progressive house sound.

As well as continuing to produce together, Nick and Martin have both had successful individual recording careers. Over the years they've had many releases on some of the best house music labels such as FFRR, Distinctive, Om, Hooj, React, Whoop, Loaded, Cream, Zulu, Wharton, Whore House, Phonetic, Pacha, Plastic Fantastic, Limbo, Stress, DMC and many more, not to mention Nick's label Jeepers! Music.

Inspired by a recent Sasha gig in Brighton the boys decided to produce an updated version of 'Be One Of Us' for a new generation of clubbers, and the result is a sensational new mix with a tribal tech house groove and an epic breakdown.

Putting together a new remix package for the release posed no problem, with some of their top producer friends chomping at the bit to get their hands on the new remix parts.

Jason Chance delivers an outstanding full-on tech house stomper that's sure to send dance floors into a frenzy. While Northern Ireland's Jay Kay weighs in with a really cool deeper house mix.