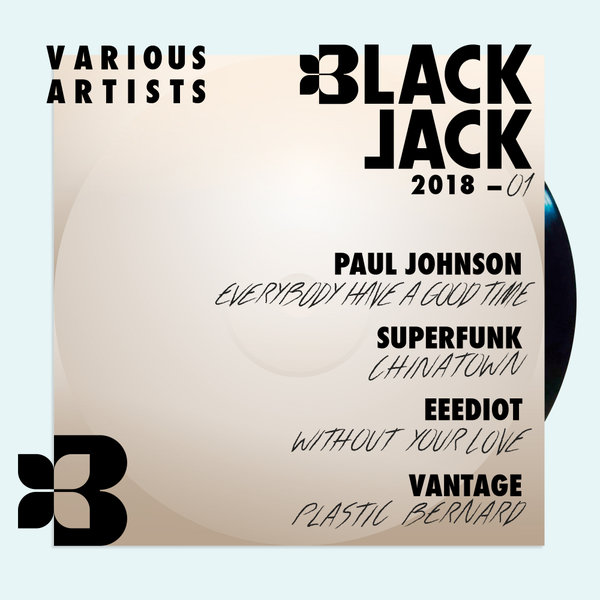 BlackJack Records Various (BJ 2018-01)
BlackJack 1998-2018 The French house legend is back! On the occasion of its twentieth anniversary, the label has been revived thanks to new collaborations and new artists creating a link between forefathers of house music from Chicago and French house leaders, past success and new tracks. When a new connection makes a new history!

• Paul Johnson Everybody Have A Good Time
The godfather of Chicago's house music goes back to his funky soul heritage he sublimated in the 90s with a lot of memorable tracks and quite a few of them were released on Blackjack Records . The first of Daft Punk's teachers (quoted in the piece of the same name by the French duo) installs a crazy atmosphere traversed by a festive tension as was instilled by the great Curtis Mayfield whose gimmicks we recognize: the relentless boogie rhythmic, the staccatos of violins...
A time tavel of 7 minutes and a big timeless track to put in simply : BlackJack is in the center of the game of house music.

• Superfunk Chinatown
The historic return of the group that helped to expose the French touch internationally. With its irreversible soul-garage chorus sung by Ron Carroll, Lucky Star was THE dancefloor hit of the year 2000. But we have got to remember that before the international hit, the trio of producers had delivered their first track on a label named BlackJack ...
Before a second upcoming album , Chinatown revisits Giorgio Moroder's synths and the eternal vibrations of disco with an undisguised jubilation.
This track is the come-back-event of a sound acclaimed by the public and music lovers of all ages.

• EEEDIOT Without your love
Eeediot knows how to make your head spin. Rocket science ? No, true knowledge  of  electronic music 's secrets  of the origins: pioneer of electronic music in the south of France, veteran techno and house music soldier, Eeediot closes the bridge between the 'teachers' of Chicago and the sound made in France.
This track has obvious house references and was recently enriched with official remixes by Steve Silk Hurley and David Morales, Eeediot was finalist in the contest French  'revelation of the year' 2017 by Radio FG. Without Your Love? An upcoming hit record.

• Vantage Plastic Bernard
Alongside the sure values and gifted revivalists, a young French touch fan takes the lead. Clément comes from Lyon but has moved to Japan and Australia to market his clothing brand. From these distant bases, he mixes and produces songs that are influenced by the music he was making in his childhood and adolescence,or even by an older era since he revisits an iconic (and irresistible) title of a Belgian artist from the beginning of the 80s that Black Jack invites you to recognize.