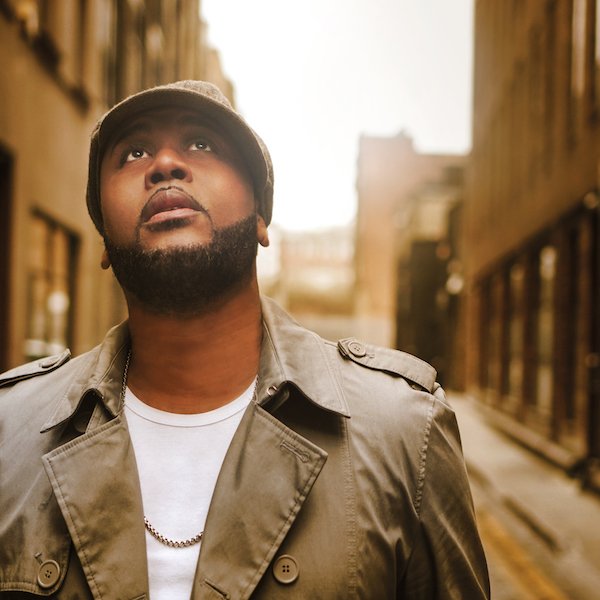 Artist
TONY MOMRELLE
Thank god for the friend who, nearly 20 years ago,persuaded a young Tony Momrelle -today, one of the UK's most significant and exciting soulful singer-songwriters - to visit the Olympic Studios in Barnes, south London and contribute a few backing vocals. Momrelle was 18 and well on his way with a Youth Training Scheme in the car industry; music was something of a sideline....

Momrelle picks the story up. "I was looking at a career in marketing" he explains. "I had been messing around in a hip-hop band, and a few people knew I could sing, but I wasn't convinced about travelling across London for a random job I knew nothing about. Of course I did go down to Barnes and there was Gloria Estefan in the studio waiting for me."

They call that a baptism of fire. As a professional singer Momrelle was straight in at the deep end, but soon there were other lucrative offers of session work. "I realised that maybe I could make a serious go of singing. I was still aware of the risk but, for me, it was worth taking; I've never looked back."

Momrelle is another of those effortlessly talented artists with a family upbringing steeped in music and entertainment. He started studying music from the age of just 8 and would embrace gospel through regular church attendance. At 13, he'd switch to "part-time" rapping with a local hip-hop group and then five years' later, in 1991, would fatefully meet Estefan.

Since then he's been touring with the biggest and best, including Whitney Houston, Sir Elton John, X Factor's Gary Barlow and, most recently, Sade. He's also recorded with urban gospel group Seven, and released two artist albums - the first, Freetime, appeared on Art & Soul in 1999; the second, Message In The Music, arrived 10 years later.

All of this, however, is to forget Momrelle's long and fruitful association with those bastions of live
soulful groove, Incognito. His consistently tip-top vocals on the road impressed Incognito main man Jean-Paul 'Bluey' Maunick to the extent of offering him a spot on both the band's 2002 album Life Stranger Than Fiction and their relentless international tour schedule. Whilst then performing with Incognito in Japan, Stevie Wonder surprised Momrelle with a phone call to express his own admiration
for the singer. High praise indeed....

"I was very fortunate to land with Incognito. It was all word of mouth" Momrelle reveals. "I would have started touring with them even earlier than I did but there were issues with my visa. Bluey remembered me though and brought me in; it was amazing to be recognised in that way.

"Momrelle has led the Incognito line for over 10 years now, taking in critically-acclaimed 2010 album Transatlantic RPM; and a continual sweep of gigs around their current album Surreal. All of which leads us smoothly on to Reel People, another quality jazzed-up creation that has enjoyed plenty of warm comparisons to Incognito over the years.

Momrelle joined Oli Lazarus' esteemed collective back in 2007, when it released incredibly mature second album Seven Ways To Wonder. He contributed to three tracks - Amazing, It Will Be and Love Is ,Where You Are - before cementing his relationship on 2011 follow-up Golden Lady, featuring the Wonder-esque delights of that record's title track, as well as songs Star and Tell Me Why. Parallel to this was Momrelle's involvement in The Realm, a Lazarus partnership with Toni Economides. The Realm treads deeper, housier turf; but its releases with Momrelle, Time and Take You
There, have always packed emotive punch and real dancefloor sophistication. It's now time to look towards Momrelle's future with Reel People Music - an imprint he now codirects
- and understandably it's bright. Momrelle has been busy over the past two years touring the world for Sade, supporting Incognito and driving momentum with Reel People, fronting the band everywhere from Europe to Japan. But now he's ready to focus fully on himself. A fantastic new EP,Fly, is set to drop this autumn followed by a debut solo album next summer.
POS.
TRACK
ARTISTS
LABEL
GENRE
RELEASED

2019-02-15

2019-03-01

2019-06-21

2019-06-21

Fly
Reel People Remix

(7:08)
2019-06-28

Buttercup
Terry Hunter Main Club Instrumental Mix

(7:15)
2019-02-15

2019-06-21

2019-02-15

Buttercup
Terry Hunter Main Reprise Mix

(7:04)
2019-02-15
2012-02-06