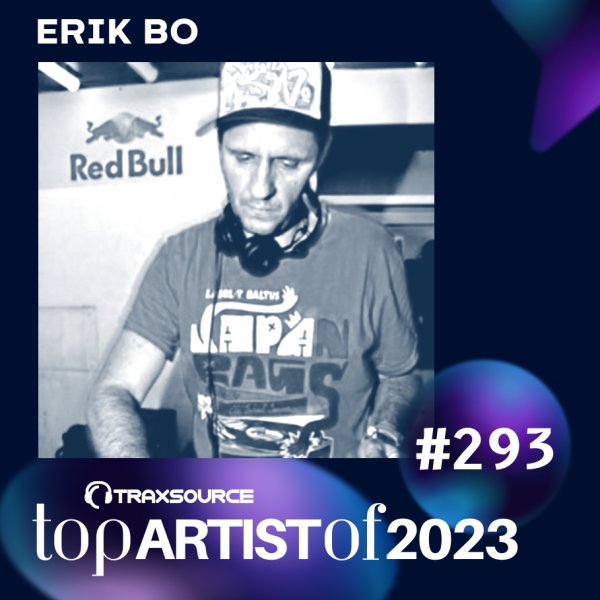 Artist
ERIK BO
Erik Bo has had a passion for music since he was a little one. It was at the age of 5 when he was first influenced by his Uncle's taste in funky music. Later in life, after becoming an avid club goer, he fell in love with clubs called "Reve d o" & H2O in Belgium. Between the years of 1998 and 2000 he was inspired by DJ Kalky's style, (the resident dj there), and it was then that Erik decided to buy his first set of Technics decks and taught himself to DJ.

He began playing small residencies at cool bars in his home town of Lille (vice versa & yo), this is where he met many nice people and club owners and was then invited to play Paris and Gent. He played his first big party for a DJ contest at the famous H20 club in Belgium in 2001. Following that gig, he took up residency at Tchouka Club in Lille. In 2004 he became a father and he stopped deejaying to care for his new family.

Missing the music he loved so much, he decided it was time to start producing in 2007. He teamed up with his friend of 10 years, Tony Will, and so became the infamous duo Erik Bo and Tony Will. With plays, and charts by Mark Farina, 1200 Warriors, DJ Sneak, and Jason hodges, they often found their tracks in the top 100 at Stompy.com. Erik has signed tracks to Robsoul, Control Recordings, Maracuja, Shak Digital, Greenhouse, Patsada, Clean House, Blockhead, juiced and Beatdown to name a few.

In 2008 Tony became too busy with family, so Erik began to produce solo. He started to DJ again, and began to play clubs like Decadance, H2o, Cafe Anvers, Magazine Club and many more. Always striving to improve his music and expand his network of friends in the scene, he created his own record label in 2009, called Funk Mansion. Thus far the label has released tracks from artists like Sonny Fodera, Anhanguera, Wattie Green, Scrubfish, Thano Vessi, Rescue, Jackin Box ......

2023-06-01
2023-05-25

2023-05-18

2023-05-18

2023-05-11
2023-04-28

2023-04-27

2023-04-20

2023-04-13