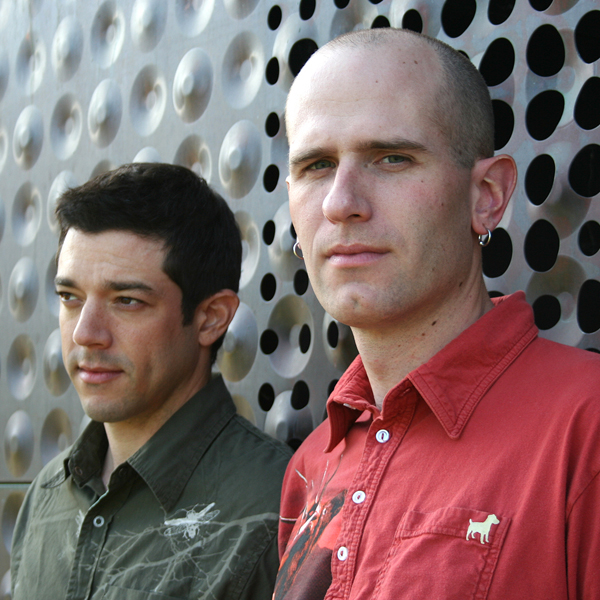 Artist
LAWNCHAIR GENERALS
Seattle duo Peter Christianson and Carlos Mendoza, a.k.a. LawnChair Generals have been shaping the future of House music out of their self-made studios since 2001. Based on the brief amount of time the duo has spent manning the controls, the success they have attained is staggering. As goes the old adage, it is quality, not quantity that breeds such success. Along with their talent, both behind the decks and in the studio, and a little luck thrown in for good measure, LCG have simultaneously blazed their way into the crates, mix compilations, and ranks of the world's top DJs.

Soon after the initial jaunt into the studio, their first sonic experiments were picked up by Viva Recordings and pressed into 'The Great Escape.' Their debut EP, called a "hot house hit" by Terry Farley in Muzik magazine (issue 77 Oct. 2001), was released to widespread praise by the likes of Mark Farina, DJ Heather, DJ Sneak, Derrick Carter, Doc Martin, Rob Mello, Yousef, and many more.

Then came the infectious 'U Dirty' EP on Westbound Records, containing the underground hit 'One Thing.' This claimed there was more where 'The Great Escape' came from and that LCG were more than a passing fluke.

'The Truth' on Dizzy's Lowdown Recordings is the label's most successful release to date and is firmly planted in the crates of all of the top House jocks. Tracks from this EP have been licensed for Derrick Carter and Mark Farina's, "Live at Om" CD as well as for DJ Heather's DJ Magazine front cover CD.

Shortly thereafter, LCG's next single 'Tell You Something' hit the street running on July 15, 2004. This second release on Westbound out-did the first, having peaked so much interest when it spiked several sets at The 2004 Winter Music Conference. 'Tell You Something - Else', LCG's remix of their own title track, was chosen by JT Donaldson and Lance DeSardi for their installment of Om's "San Francisco Sessions" mixed compilation series.

LCG kicked off a promising 2005 with their hugely anticipated 5th release, "You Got To / Stop Frontin'" on the Belgian imprint Aroma, licensed to DJ Sneaks upcoming OM Records Mix CD before its release.

The talent of this duo is undeniable, both as producers, remixers and DJs. They have been making dancefloor gold of other artists' work for almost as long as they have been creating their own. After dropping torrential re-workings of tracks like DJ Hal's 'Don't Give It Up' and Swirl People and DJ Heather's 'We Used To Party', LCG remixes are now on back-order.

From as close to home as Flammable @ Rebar in Seattle to as far away as the clubs of Australia and Europe, LCGs' rambunctious two-jock DJ sets have become a required experience for House-heads around the world. The LCG blend is a unique fusion of West coast and classic Chicago-style House with touches of electro, soul, and freestyle-era pop flavor. Their performances further cement the strong impression left by the music they create. And wherever the production path may take LCG, they're likely to embrace respect without forgetting their DJ roots. As Carlos puts it, "Peter and I are DJs first. We make music we want to play."

2020-12-18
2017-08-11
2017-03-28
2016-10-03
2015-02-24
2014-08-01

2013-08-09
2013-07-26
2012-03-27
2012-02-14