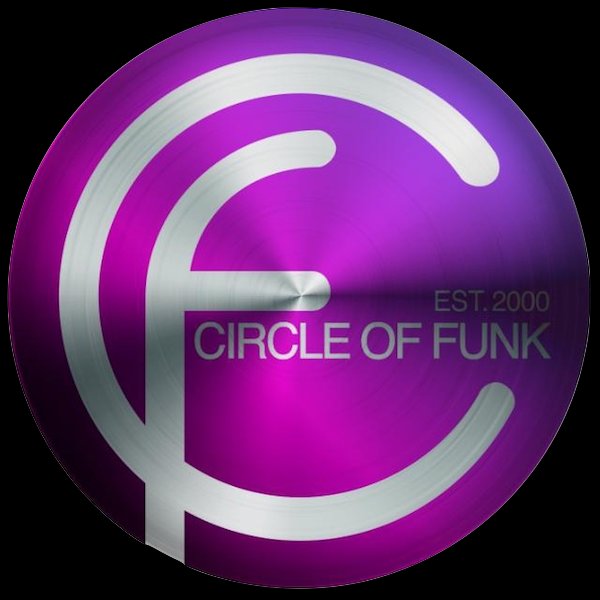 Artist
CIRCLE OF FUNK
Circle of Funk have their roots firmly in Bristol, the music capital of the UK's South West – all three members – Lee Robinson, Paul Stephenson, and Andy Caulfield were born there.

Lee and Paul met at College in Bristol and started out in the music business as "The Cutz", which soon became one of Bristol's most prestigious underground Hip Hop shows, and resulted in them being featured as guests on Radio One's Tim Westwood show.

In 2000, Lee's school buddy, Andy Caulfield joined them and "Circle of Funk" was born. Andy was already an established DJ and Producer from the days of The Cutz, and his combination of musical tastes, refreshing attitude, and talent complemented the group perfectly. The trio were buzzing off the vibe, and became in demand for house nights. Deli G gave them their first DJ billing in Bristol, and the group went on to perform many UK and international gigs.

Another talented Bristol musician, Daniel Ankrah a.k.a. Blackjack joined Circle of Funk and the trio became a quartet in 2007, however Dan left in 2016 to pursue his solo interests.

The first single was "Games" featuring Mandy Senior, and over the years their catalogue has grown to include releases with Lifford Shillingford (the voice of Artful Dodger's hit "Please Don't Turn Me On"), award winning UK soul vocalist Natasha Watts, House Music legend Robert Owens, and respected US gospel artist Dawn Tallman, to name a few. Circle of Funk continue to cement their reputation in the production world and have received great feedback from the likes of Louie Vega, Spinna, David Harness, Andy Ward, Josh Milan, Phil Asher, Jon Cutler, Boddhi Satva, Abicah Soul, CJ Mackintosh and many more. They have recently promoted the twenty sixth release on their very own "Slapped up Soul" label.

Circle of Funk promise some exciting future releases, including a track with Kathy Brown, and are working with a variety of artists to produce different genres of music including Nu Soul, Downtempo and Electronica. There is always an element of surprise in their work which they hope will keep their music edgy and intriguing.

Look out for much more to come, and a bright and bold future as Circle of Funk continue to move forward, bringing innovation, vibrancy and ingenuity to the dance music arena.

2020-09-04

2019-09-27

2019-08-23
2019-03-15
2019-02-04
2018-12-10

2018-11-30

2018-11-30
2018-07-30
2018-07-30