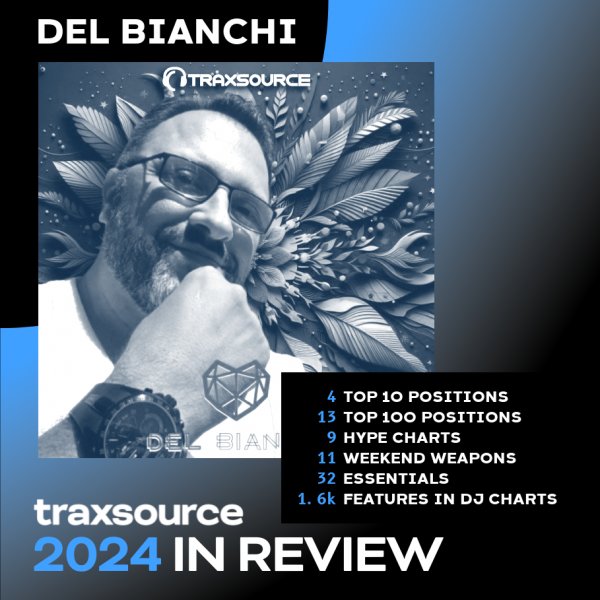 Artist
DEL BIANCHI
DEL BIANCHI // DJ DEL B.
[Austrian DJ & PRODUCER with Italian-Slovenian roots]

Co-owner of * AFRO MADIBA RECORDS * [official since june 2023)
Send afro house, afrobeat, amapiano, afro soul demos : afromadibarecords@gmail.com

SPOTIFY ☆ https://open.spotify.com/artist/0uyKvXfa1vxpGpmuJUxyHC

MORE LINKS HERE ☆ https://linktr.ee/delbianchi_djdelb_real


Deejay career started in 1985 as a Hip-House, Underground, Old School House & Acid House DJ.

When "House" Music entered the scene Bernard Del Bianchi aka DJ DEL B. moved along with this new style of music into the Underground Club scene. He used to be Resident at some local Clubs. Now, he is DJ-ing at various Clubs, Discos, Events, Bars, private parties all over Europe, USA, UK and beyond.

Already at the beginning of his DJ carrier, in the late 80′s and early 90′s DEL BIANCHI was inspired by a lot of Old School House / Chicago / Detroit / Brooklyn House, London Underground and Acid House Producers, DJ's and bands such as:
Joe Smooth, Tyree Cooper, Todd Terry, Terry Hunter, Little Loui Vega, Marshall Jefferson, David Morales, Eric Kupper, ChipE, Chris Longley, Couldcut, Blaze, Mr.Fingers, Inner City, Jellybean, Jimmy "Bo" Horne, Jolly Roger, Kraze, MARRS, Philly Cream, Phuture, Ralphi Rosario, Raz, Ramon, Ripple, The Beatmasters, Yazz & The Plastic Population, Farley Jackmaster Funk, Curtis Mc Clain, Mr. Lee, Kevin Irving, Maurice, Frankie Knuckles, Kerri Chandler, Mr. V, Phortune, Robert Owens & many other legendary artists of this era and so it remained until today!


His favorite styles were Chicago house,Hip-House, Acid house, Underground House and in the course of the career developed a very great love for deep house, soulful-house, afro-house, tech-house, jackin ́ and remained so until today.
With his Promo series of Deep House Society Vol. 1 to Vol. 10, AxtraVaganza Vol. 1 to Vol. 30 and many other Deep, Soulful & Old School sets he tried to connect the Old School House Sound with the new House, to remind the generation of today to the classic tunes.
Simply put, back to the roots, where the real Quality Sound was born!

......................................................................


In 2021 he finally desided to start his career also as a music producer under his family name DEL BIANCHI.
His first Dancefloorkiller " F****D UP! " was produced together with his amazing friend, worldwide famous JERRY ROPERO.

The first 1,5 years as a producer brought thanks to great record labels like:
GROOVY RIDDIM RECORDS (SPAIN), MAVEK RECORDINGS (USA),
PASQUA RECORDS S.A (USA), AFROCUBANIA RECORDS (SPAIN),
JACKPOT RECORDS (ITALY), FULL DANCE RECORDS (ITALY),
MERECUMBE RECORDINGS (USA), SURE PLAYER RECORDINGS (UK),
ELECTRIC FRIENDS MUSIC (GERMANY), LOYAL HOUSE RECORDS (GERMANY) & OPEN BAR MUSIC (USA), GARDEN SOIL RECORDS (SOUTH AFRICA)
amazing successes!

Various hits (old and new), produced by DEL BIANCHI will be or already bean remixed by many famous producers from the House & Afro House scene such as:
STONEBRIDGE (Sweden), DANY COHIBA (SPAIN), PEPPE CITARELLA (ITALY), TAYO WINK (USA), JON MAVEK (USA), RAFFAELE SICA (ITALY), MATTEO (ITALY), SOULREDEEP (SOUTH AFRICA),
STEEVIE MILLINAR (BELGIUM), SOULIS SARRIS (GREECE) and other amazing and famous producers!

2023-09-15

2023-09-01

2023-08-25

2023-08-25

2023-08-25

2023-08-25