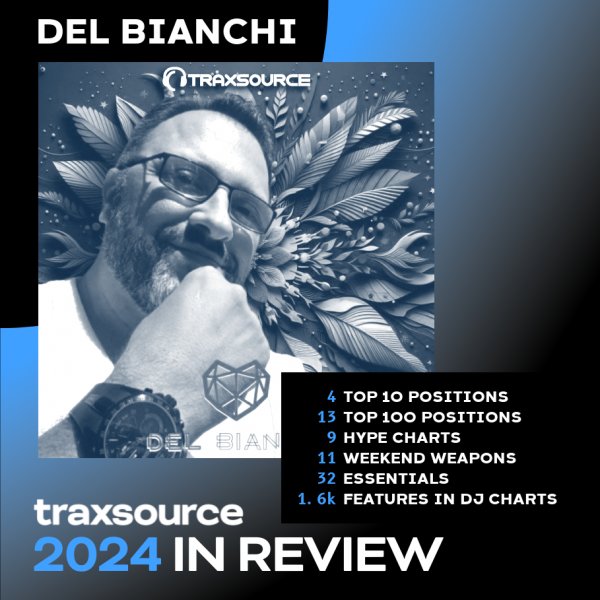 Artist
DEL BIANCHI
DEL BIANCHI // DJ DEL B.

SOUNDCLOUD ☆ www.soundcloud.com/del-b
INSTAGRAM ☆ www.instagram.com/djdelb_real
FACEBOOK ☆ www.facebook.com/deejayDELB

Deejay career started in 1985 as a Hip-House, Underground, Old School House & Acid House DJ. When "House" Music entered the scene Bernard Del Bianchi aka DJ DEL B. moved along with this new style of music into the Underground Club scene. He used to be Resident at some local Clubs. Now, he is DJ-ing at various Clubs, Discos and all over Europe, USA, UK and beyond. He also received several "gig" requests from Tunisia, Arab Emirates,
Portugal, Brasil, Spain & South Afrika.

Already at the beginning of his DJ carrier, in the late 80′s and early 90′s DEL BIANCHI was inspired by a lot of Old School House / Chicago / Detroit / Brooklyn House, London Underground and Acid House Producer,
DJ's and bands such as: Joe Smooth, Todd Terry, Marshall Jefferson, ChipE, Chris Longley, Couldcut, Blaze, Mr.Fingers,
InnerCity, Jellybean, Jimmy "Bo" Horne, JollyRoger, Kraze, MARRS, Philly Cream, Phuture, Ralphi Rosario, Raz, Ramon, Ripple, The Beatmasters, Tyree, Yazz & The Plastic Population, Farley Jackmaster Funk, Curtis Mc Clain, Mr. Lee, Kevin Irving, Maurice, Frankie Knuckles, Kerri Chandler, Phortune, Robert Owens & many other legendary artists of this era and so it remained until today!

His favorite styles were Chicago house,Hip-House, Acid house, Underground House and in the course of the career developed a very great love for deep house, soulful-house, afro-house, tech-house, jackin ́ and remained so until today.
With his Promo series of Deep House Society Vol. 1 to Vol. 10, AxtraVaganza Vol. 1 to Vol. 30 and many other Deep, Soulful & Old School sets he tried to connect the Old School House Sound with the new House, to remind the generation of today to the classic tunes.
Simply put, back to the roots, where the real Quality Sound was born!

In 2021 he desided to start his career also as a music producer under his family name DEL BIANCHI.
His first Dancefloorkiller, 1st Smash Hit " F****D UP " produced together with his amazing friend, worldwide famous JERRY ROPERO coming out already this February 2022 and other amazing masterpieces will follow in the coming months!

Also as a producer/music artist, DEL BIANCHI proves his excellent taste for good music!

2022-08-12

2022-07-29

2022-07-01

2022-06-24

2022-06-01

2022-04-15

2022-04-15

2022-04-15