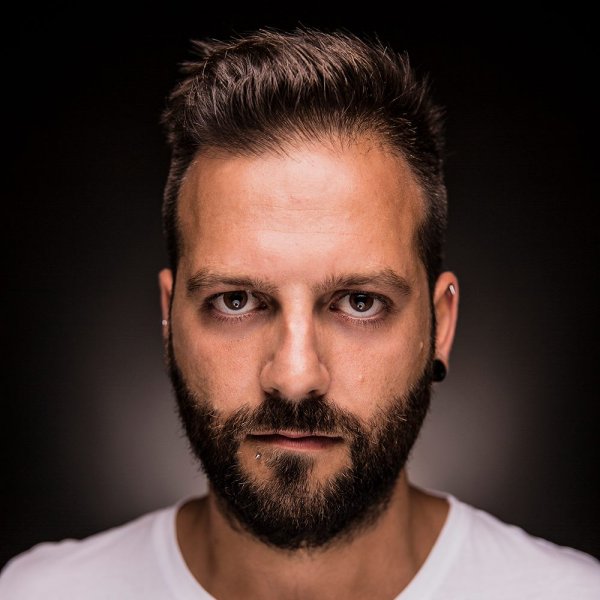 Artist
ENRICO SANGIULIANO
Enrico Sangiuliano is a Producer, Performer & Sound Designer born in Reggio Emilia, Italy. Since he was a child, his desire to create noises and sounds from everyday objects was very apparent, with him using all sort of objects which delivered something new and interesting, from pans and pots in the kitchen to the wooden benches in the park.

In his teenage years he turned his attention to technology and started to learn how to make music on his computer at home in the 90's. During this time, he started to head to many of the illegal rave parties in Northern Italy as a partygoer, but when a friend listened to one of Enrico's sets, he swiftly introduced him to one of the main party organisers where after 10 minutes of listening to him play, they simply said "You're In!".

From that moment, Enrico spent 10 years playing all over Italy, from small intimate venues to big outdoor raves. Many of his tracks during this period, became party anthems for all fans those who regularly attended every event, and to this day, they are still all unreleased.

Since 2009, his productions have been signed to a wide variety of world leading labels including Truesoul, Herzblut, Gem Records, Octopus Recordings and Rhythm Converted. But his international recognition came in August 2015 with his remix of DJ Boris's "Can You Hear Me" on Alleanza. The track held onto the #1 position on Beatport for 14 weeks, along with featuring in the Beatport overall chart for 5 weeks. The track holds the title of the highest selling track on Beatport of 2015 and was nominated at the IDMA Awards in the "Best Techno / Tech House Track of 2015" category.

After this success, big things were expected from the Italian producer, and he didn't disappoint. His EP "X Pollination" released in March 2016 on Unrilis smashed into the charts to sit at #1 for over 2 months, and held onto the #1 position overall of Beatport.

Leaving his name firmly on the techno radar, and with his previous productions on Truesoul over the years, a release on Drumcode seemed a natural progression for Enrico and this came in the form of "Trrbulence" in 2015, followed by "Start Of Madness" in 2016 and most recently his record breaking EP "Moon Rocks" released in August 2016 where all 4 tracks featured in Beatports Techno Top10, with the lead track taking #1 for over 6 weeks. Two months after its release date, 3 of the tracks still remain in the Top10.

His remix collaborations have been with a selection of the best in the industry including Mark Reeve, Mauro Picotto, Secret Cinema, Paride Saraceni, Armand Van Helden and Dusty Kid. Not forgetting to mention his upcoming landmark release on Drumcode, with his remix of Moby's "Why Does My Heart Feel So Bad" out on the 14th November.

International support has come from industry heavyweights including Sven Vath, Adam Beyer, Joseph Capriati, Karotte, Gregor Tresher, Alan Fitzpatrick, Pan Pot, Stephan Bodzin, Sam Paganini and Secret Cinema. This continued success and support, lead Enrico to earn the No.8 spot of the best selling techno artists back in 2015, which he then managed to better once again by landing the No.1 spot in 2016.

With his next release on Drumcode due on the 14th November, we can expect many more exciting collaborations to come in early 2017. His global recognition and demand has grown at a substantial rate, so we can be sure to see him touring more than ever, heading out to South Africa, Australia, USA and South America.

With so many outstanding collaborations and productions in just the last two years, you can only imagine what else this perfectionist of a producer is going to deliver as he steps it up a notch for 2017......
POS.
TRACK
ARTISTS
LABEL
GENRE
RELEASED

2023-03-31

2021-09-10

2022-10-14

2022-11-10

2022-09-09

2023-05-03

2023-05-05

The Age Of Love
Charlotte de Witte & Enrico Sangiuliano Remix - Edit

(3:32)
2022-09-09

2022-06-24

2023-05-03